Archive for
December, 2011
Joel and Corey bring you holiday wishes for the end of another calendar year in the form of the Assholes of the Year list for 2011. Each guy has made up his own list of scumbags, hypocritical celebrities, lousy musicians and whack job politicians who have excelled in the field of assholery in the past year. There's an insane preacher, a self-righteous athlete, a coked-up actor and many, many more jerkoffs for you to hear about in this show. It's quite the show, too at 142 minutes! Listen and enjoy as these two assholes rip the wost of the worst from all walks of life and all places on the globe. Just think, if you're not on this list, you've done OK!
Hit the "play" button below to listen or right click the "Download" link below and save the file
[display_podcast]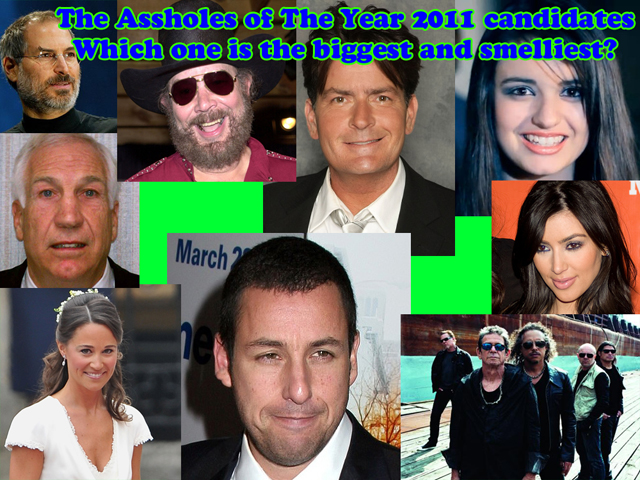 John Tenney joins Joel and Corey for a festive chat about lots of things, and nothing in particular. John comes bearing gifts, a weird collection of stuff that makes no sense and at the same time, perfect sense. A Joel Radio superfan gets his tasty holiday treats to the guys too – hail Toffifay! Also, John's take on the latest comedians and podcasters, the post office sucks, Toby Keith may be a fake, and what mood ring says about you (something about your mood). Plus, Joel loves The Last Circus, a movie so bizarre, even Corey hasn't seen it.
Hit the "play" button below to listen or right click the "Download" link below and save the file
[display_podcast]