joel
This user hasn't shared any biographical information
Posts by joel
After eight long months away, Jason Fylan-Mares returns to the show for the first time since Movie Mania 2020. Jason's stayed busy producing his own comedy shows, performing, and doing something Joel has not dared to – going to the movies! Joel details how he voted this year, going against long-standing convictions with a specific goal in mind. He also skips tons of stuff on the ballot, too! Find out which races he can't be bothered with and why the American Solidarity Party will have to wait another four years to (possibly) get Joel's vote. Plus, tons of TV reviews, including the brilliant How To with John Wilson, Soulmates, The Undoing, the finale of Lovecraft Country, the very funny Intelligence, and the completely bizarre advertainment of John Bronco on Hulu. At the movies, Jason takes in Tenet, Joel says to skip Bill Murray's On The Rocks, and The Opening Act is very true to the life of a stand-up comedian but still isn't very good.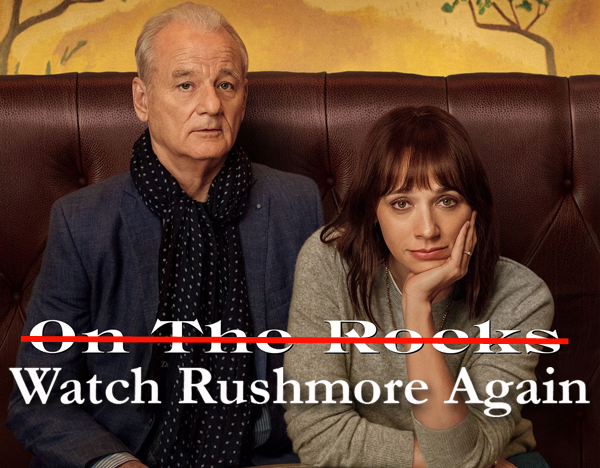 Hey Sofia Coppola! I fixed the title of your new movie – Joel
It looks like stand-up comedy is returning, even in a smaller, socially-distanced way, and Joel talks to the formerly retired comedian Ted Moss about what's about to happen. Joel tells you about The Comedy Castle's new procedures for the November re-opening and is proud to announce the return of the Advanced Comedy Class! Ted has already done some shows and has more coming up, when he's not making episodes of his ever-growing podcast. Also, find out the beef between David Crosby and the recently deceased Eddie Van Halen, if a millennial can enjoy Airplane!, and the simple, according to Joel, mathematics of the stand-up comedy business. Plus tons of TV reviews including Ted Lasso, The Goes Wrong Show, A Wilderness of Error, and the most important movie of the year the coronavirus documentary Totally Under Control.
Mark Ridley and Louie Anderson at The Comedy Castle – the good times return November 5th!
Podcaster and (retired) comedian Ted Moss, returns to the studio to tell Joel about how lockdown has been treating him and not unlike Joel it's been challenging. Both guys talk renovating their kitchen with limited funds and Ted's clever scheme that may or may not work. Joel bemoans the government's response to comedy clubs closing, his own unemployment situation and why most "solutions" do nothing to combat the virus. Plus, more love for Fargo, Ted loves Catastrophe, Class Action Park is as crazy as it sounds, Seth Rogen makes the worst movie of the year, and why Joel and Ted should just start a band already.
That picture isn't Ted, but you get the idea
Joel returns with comedian Bill Hildebrandt in studio. Bill details his first comedy gig in months – outside no less – and how he's dealing with COVID-19 by going the right way down the aisle at the supermarket, even if it feels wrong. Joel and Bill talk going to Cleveland's Rock and Roll Hall of Fame, and why you should go there, too. Joel reviews Irresistible, Palm Springs, Host, and I Used To Go Here. One of those is really good! Plus, more memories of Corey Hall and a special, never-before-heard bonus segment where Corey interviewed the great George Carlin back in 2004.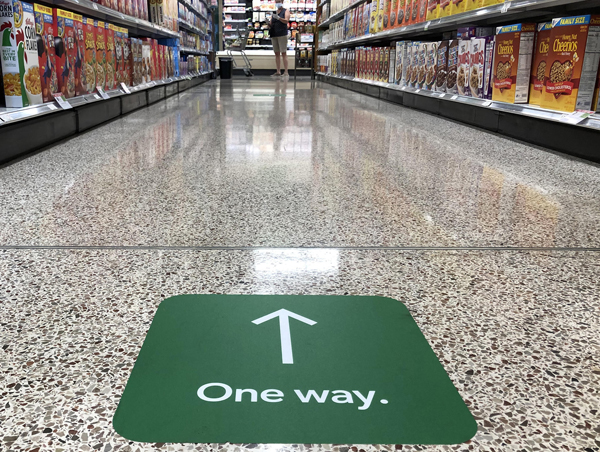 Bill's right. This is lame and protects on one.
On this show, Joel remembers his friend and co-host Corey Hall who passed away suddenly at age 44. It's an emotional two hours as Joel talks about Corey's life and career, how the two met, their successes and failures as podcasters and much more. Hear about their good, but ultimately doomed audition for commercial radio, the favorite shows they did together, what they fought about and what they both loved. There's other tributes to Corey, too: one from NPR, his family's obituary and a very nice piece by Adam Graham from The Detroit News. Goodbye, Corey. You will be missed.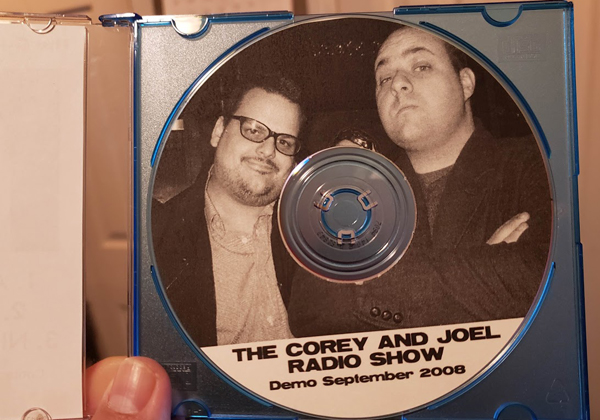 The demo CD that got Joel and Corey (kinda) hired for commercial radio
It's another week of lockdown and Joel has watched a million different movies and TV shows and checks in with reviews. Actually, there some things even he, or phone-in guest Corey Hall, refuse to watch, including a new David Spade film on Netflix that looks like the worst thing ever. He's pushing sixty years old, and Spade still hes acting like a teenager, being too good for the 20-years-his-junior woman that is by any standard attractive. Speaking of attractiveness, Joel details the real crime being done to actresses in Dead To Me Season 2 , and he knows he sounds like a dick doing it. Also, girlfriend Layla, sits in to review Upload, Magic For Humans, Normal People, Hollywood, a belated watch of The Morning Show, and much more. Plus, movie reviews of an 80s classic no one wanted, and the incredible My Dad Is a Heel Wrestler. It's the best! Plus, Joel talks on Zoom here and here. How's his background?
Before he was a "Heel Wrestler" Tanahashi was Joel's friend. Photo by Corey!
The world is so weird right now, and as a guy who likes to tell the truth Joel is here to say nobody knows anything. Not the doctors, the scientists, especially not the politicians. Everybody's guessing, and Joel is, too. He chats with comedian Kevin Kramis who "won" the right to mow his, and other's, lawns. Kevin says why he stopped live streaming comedy, how he's being taken care by unemployment and his new hobby to fill the time. Later, girlfriend and viewing companion, Layla joins Corey Hall and Joel to discuss good the things to watch during the lockdown, which may include, Bad Education on HBO, My Spy, Banana Split, Little Fires Everywhere, After Life, Fleabag and more. It's getting so bad – Corey actually enjoyed Little Caesar's Pizza. Let's all pray for this to end.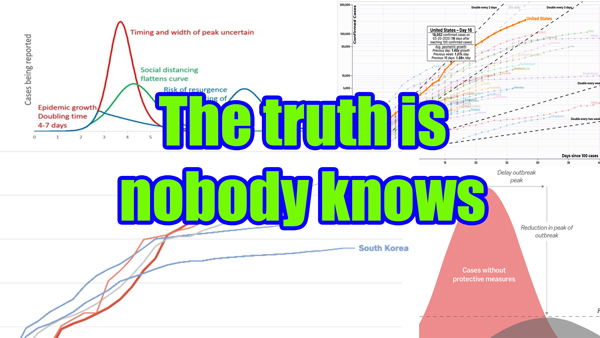 Somebody make a chart showing how charts are way up in 2020
Another week in lockdown has Joel calling up his friends. He starts with Ted Moss, who isn't buying into all the stay at home restrictions and just wants to paint his house, or go out on a boat or whatever else they tell him he can't do. Ted has also returned from a big podcasting conference and will soon be famous with his own YouTube channel and other podcast gimmicks that all cost him money. Later, Corey halls joins Joel and his girlfriend Layla to discuss what to watch while you're doing nothing. They recommend HBO's Run, Crip Camp on Netflix, the great comedy doc It Started as a Joke, and pan The Gentlemen, Birds of Prey, and Like a Boss. Also, Modern Family ends as they've probably all died of old age by now.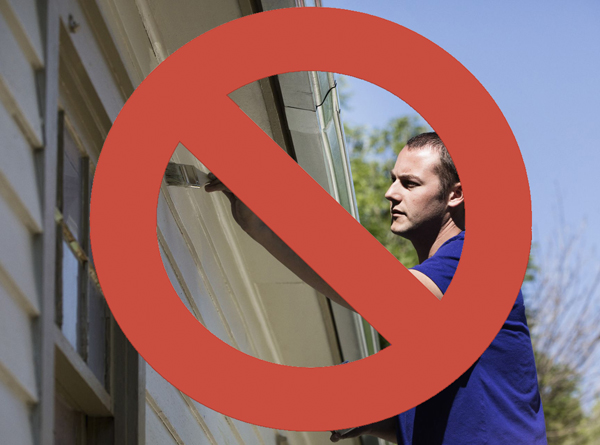 It's actually not illegal to paint your house but Ted is angry about it anyway
Joel checks in during the pandemic to interview journalist Steve Miller about coronavirus, America's response to the crisis and taking guesses at when it all might end. Steve's also been doing a bunch of reporting on a sensational Florida murder-for-hire case, but he still hasn't seen Tiger King. Also, comedian Derek Richards checks in from Las Vegas on the state of Vegas, and why comics might actually get a raise out of unemployment. Plus, Joel's quarantine-mate Layla check in on how they're staying sane and all the stuff they've been watching like McMillions, Tiger King, The Office, Girls, and so much more. You'll also hear Layla describe giving her first haircut, which might a true-crime case in the future.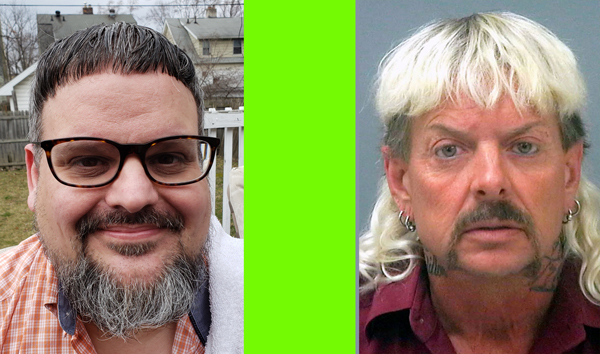 Which is worst? Joel's quarantine haircut or Joe Exotic's mullet?
Comedian and all-around curmudgeon Bill Hildebrandt returns to chat about how the corporate comedy show is done wrong, the effect of coronavirus on the business and why comedy agents are weasels. It's an inside comedy talk for sure, but it's hard to disagree with him – unless you're an agent or a corporation looking for fun-but-misguided way to entertain your employees. Also, Joel takes Rob Schneider out for breakfast, Atlanta traffic sucks, what happens when a big store closes, and movie production issues that drive Bill nuts. Plus, a TV and movie rundown with The Invisible Man, The Impractical Jokers Movie, The Outsider on HBO, Hunters on Amazon Prime, Breeders on FX and more.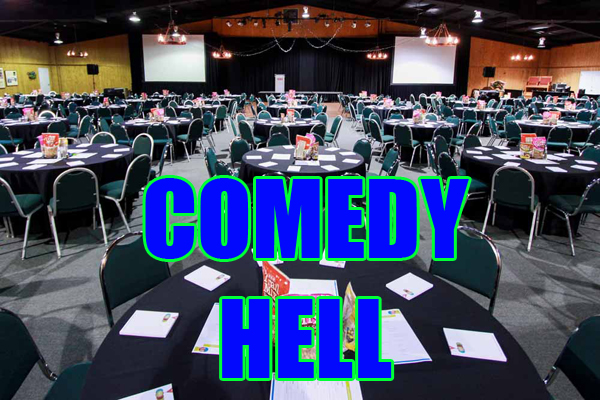 The corporate meeting – comedy's best paying enemy of fun