joel
This user hasn't shared any biographical information
Posts by joel
Joel returns with the sad news of his Dad's passing in August, the reason he took a break from the show, and shares his family's story of dealing with the ravages of Alzheimer's on a loved one. He also details why he missed the Gathering of the Juggalos this year and you can probably guess why. If that wasn't enough, Norm Macdonald, passed and the world finally recognized what a genius he was. Find out what happened when Norm and Joel had dinner one night. On the sunnier side, Layla joins the show to talk about her and Joel's recent trip to Miami Beach, the downside of staying at a high-end hotel, and why Miami is really nice, but not for everyone. Plus, a review of No Time To Die – Layla's first James Bond movie! – and more including Free Guy, The White Lotus, Ted Lasso, Impeachment: American Crime Story, Nine Perfect Strangers, Come From Away, and much more.
Joel and his Dad
Joel rarely talks about Pro Wrestling on this show, but he has a long history with it as a fan and as a ring announcer, and he shares some of those stories on this week's show. He's joined in this by Chicago-area and JCW wrestling legend Vito Thomaselli, who hadn't seen or talked to Joel in over twelve years! Vito's got a lot going on now like appearing on WWE's Most Wanted Treasures on A&E recently, and his own animated wrestling TV show, The Carnies. Vito and Joel talk what it's like to work for the notorious Violent J of Insane Clown Posse, Joel shares his memories of his first ever wrestling show he attended in 1985, and much, much more. It's good talk! Enjoy! Also, Joel gives his solo reviews of McCartney 3,2,1, the excellent Clarkson's Farm, the Detroit-lensed No Sudden Move, and enjoys the problems of white people on The White Lotus.
Top Dolla, Vito Tomaselli, and the legendary Booker T make a deal on A&E
Joel's main squeeze Layla returns to the podcast to talk their awful experience in returning to a movie theater after over a year of not going to one. The movie was good (A Quiet Place Part 2), but the people were not. Hear why this was all Joel's fault – according to Layla! – and how he would run movie theaters differently if he was in charge. Also, Layla remembers Bill Hildebrandt, and the end of Covid restrictions and why Joel was 100% right about how to distribute the vaccine. Plus, tons of TV and movie reviews, including the highly recommended Hacks, Cruel Summer, Starstruck, Mare of Easttown, and the Kid Detective amongst many more. They also discuss the less-recommended Cruella and why all Disney movies start the same way. Please don't stand up and talk during this show!
Layla is ready for her close-up
It is with a very heavy heart that Joel says goodbye to his mentor, friend and "Comedy Dad", Bill Hildebrandt who passed recently. Joel tries to avoid crying (and fails!) by inviting some of Bill's good friends, comedians Derek Richards and Kevin Kramis on the show. Joel and Derek talk Bill's time playing in Vegas, the history of "The Mug" and its accompanying bit, and why Bill was the curmudgeon comedian we all loved. Kevin joins to talk about Bill as a comedy teacher, working with Soupy Sales, why Bill made the "hands bit" work (in an emergency!), and Joel reminisces about doing comedy in a Home Depot, and tells how Bill was almost Upchuck the Clown. It's a bittersweet show, but hopefully a loving tribute to great friend and great comedian. Details of the official memorial for Bill can be found on Facebook by clicking here.
A few of the pics Joel took of Bill Hildebrandt at The Comedy Castle for his new headshots
The annual massive Movie Mania show consisting of Joel's best movies of the year, the worst movies of the year, Oscar predictions and more is here! Joel is joined once again by Jason Fylan-Mares (or is it Jason FM?), and the guys have included a symbolic chair for the late, great Corey Hall to join them in spirit. Some of the highlights are Joel saying that Mank is representative of the problems with Netflix's original programming, why Tenet is just a Christopher Nolan James Bond movie, and why Pixar's Soul is one of the worst movies of the year. Plus, Layla does her "Sleepy Awards" for the movies she fell asleep during in the past year! If you're into movies, then this is the show for you!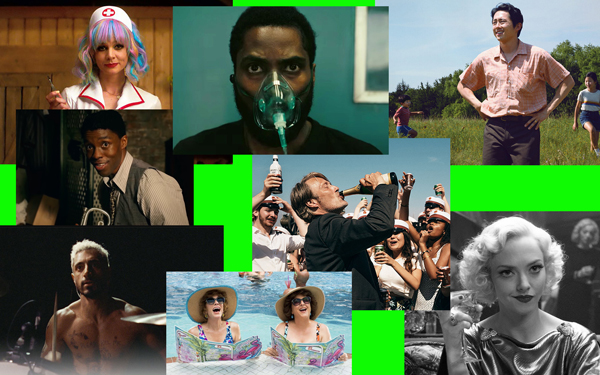 Some really good movies came out this year. None of which were named Wonder Woman 1984.
Joel welcomes pro wrestler/comedian and would-be filmmaker Mikey Gordon to the show. Mikey and Joel met at The Gathering of the Juggalos, and have crossed paths at diverse places over the years including Detroit, California and Oklahoma City. Mikey details his attempt at making a feature film, how you can help support it, and the unique way way it will eventually be released. Mikey also tells tales of jobbing on WWE Raw, drive-thru wrestling, and Joel revisits the night a pro-wrestler him in the head with a chair. Ouch. Plus, Layla reviews stuff like Wandavision, Frayed on HBO Max, and Search Party (and Save Yourselves with the same exact guy!). Plus, Joel's Oscars spin says no-one could possibly enjoy Mank, an explainer on My Octopus Story, and he runs down exactly what he needs to see pre-Movie Mania.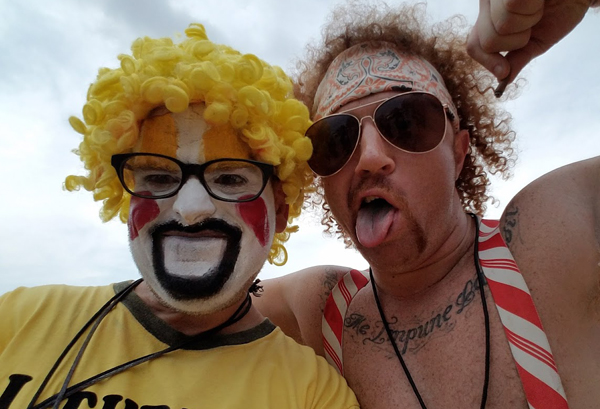 Upchuck and Dirty Ron trying to enjoy the hell that is Oklahoma City in 2017
After celebrating the death of Larry King, Joel returns to celebrate the death of Rush Limbaugh! Joel runs down all of Rush's failings and scandals and tells his tale of being invited to hang out at a "Rush Room" in the 1990s. He also details all of Limbaugh's progressive and positive ideas for the United States and its citizens – yeah nothing at all in this column! Zip! FU RUSH! Rest in Hell, dickhead. Plus, Layla joins for TV and movie reviews with Oscar darling Nomadland, Framing Britney Spears, and the bizarrely funny Barb and Star Go To Vista Del Mar. Plus, Hotel Cecil is Netflix true crime at its most ridiculous, Larry King cuts out his wife, and which celebrity does Layla thinks stinks? We mean she met him and he actually stunk! Listen to find out.
Larry clutches onto his will as his wife attempts a chokehold in his last living attempt at assholery
Joel hasn't reveled in a celebrity death for a while, but he's not missing out on dumping on Larry King, one of the most famous and absolutely worst interviewers in history. Joel tells you how Larry didn't prepare at all, and had no follow up questions for his guests and generally sucked at his job. Joel also details how Larry reveled in his callers' geography, hit on old starlets, and was divorced multiple times including recently when he was in his 80s! He also uncorks his Larry King impression – "Dubuque, Iowa, you're on the air!" – much to the dismay of Layla who sits in on this episode. Turns out Layla got the COVID vaccine and tells how she's doing as do many of Joel's family and friends who check in as they've had their shots. Spoiler warning! They are all just fine. Plus, tons of movie and TV reviews including One Night in Miami, the amazing In & Of Itself, WandaVision, the creepy Relic, the fun parlor game of The Hustle, and the documentary that should have been called Tiger Woods vs The Booty Bitches.
On this show Joel follows up on the problems distributing the COVID-19 vaccine, and why it's important to figure how to get it right now instead of later. He also talks about the folks that stormed the Capitol Building in D.C. and why you should figure out what your Mom, Dad and Uncles are up to on the internet. There's a grim reality to the show's open, but it lightens up as Layla joins Joel to discuss some of the Oscar season films like the excellent Promising Young Woman, Herself, Sound of Metal and more. Hear Layla try to describe the plot of Ma Rainey's Black Bottom – it's hilarious! Plus the good documentaries Tread, Wild Card, Time and much more.
Thought it was better to post the band from Ma Rainey rather than those idiots from the Capitol – Joel
The last show of 2020 has Joel updating everyone on his second dose of the Covid-19 vaccine. Spoilers, he's doing fine, and he's encouraging for people to take it themselves when they can. Joel is joined by journalist Steve Miller who feels the delivery of the vaccine could be a problem and the guys come up with some inventive ways to distribute it. Perhaps the most obvious – just give it to anyone who wants it! Listen to this and be encouraged with the world's fight against Covid-19, even though it would probably be better with Joel leading the fight. Plus, Layla returns to chat about what's good on TV, like the holiday releases of Wonder Woman 1984, Soul, The Prom and much more. Find out why The Wilds on Prime is one of the best TV shows of the year, how The Mandalorian goes all fan-servicey, and why Murder on Middle Beach is perhaps the year's best true crime TV show. And Joel watches documentaries like the great Dick Johnson is Dead, the unbelievable (for a reason) Bloody Nose, Empty Pockets, and even sings like The Bee Gees.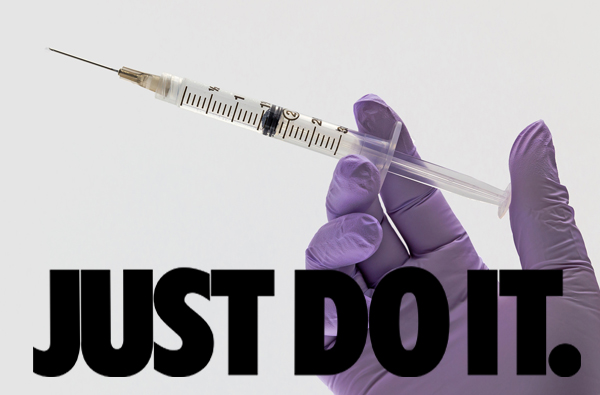 Don't be an asshole – take the vaccine.