joel
This user hasn't shared any biographical information
Posts by joel
With the Oscars behind us, Joel revisits the year 2022 in movies by reviewing the winner and losers and the show itself. He's joined by Jason Fylan-Mares, and neither guy has seen all the nominated films and neither really cares. Joel explains why the movies aren't what they used to be, why his interest declined in The Oscars and why TV is way more interesting now. Plus, stand-up comedy is booming, Joel's other podcast is going well, and TV reviews of Yellow Jackets, The Last of Us, Shrinking, Poker Face and The Other Two.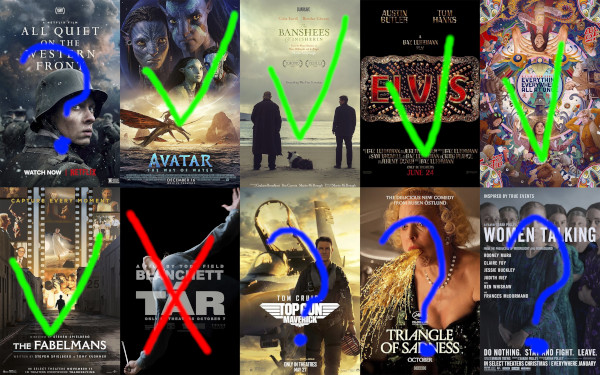 Figure out the movies Joel liked/didn't like/didn't see!
After an extended break, Joel – and Layla – return with stories of their holiday visit to NYC, including seeing The Rockettes at Radio City Music Hall, Hugh Jackman in The Music Man, and dining on legendary eats that Joel never tried before. Also, reviews of Oscar-buzzworthy movies The Fabelmans, Avatar 2, and Glass Onion. Plus, Joel's new podcast venture takes off (listen to this!).
Joel and Layla freezing in NYC December 2022
Another year, and tons more movies! Joel ruined his social life by watching all of the movies nominated for Oscars in 2022, so you don't have to! He has his list of the fifteen best, his Oscar predictions, and why he just can't watch Shakespeare – sorry, Denzel! He's joined by Jason Fylan-Mares who shares his own list, which includes superheroes, video game characters and Oasis! Great list! Also, find out the worst films of the year including at least one nominated for Best Picture. This is always a fun show with great suggestions for stuff to watch.
Watch these movies! Especially Red Rocket and Nightmare Alley!
Jason Fylan-Mares returns to Joel Radio to discuss a health scare in Joel's household, the shootings close to home in Oxford, MI and a promise to keep the show funny and light, really! Jason talks about his hometown of Oxford and how he's hoping to help the town with a big comedy benefit on December 29th. Joel explains why he's living in a hotel for a week, pledges his support for the Oxford benefit, describes seeing The Rolling Stones for probably the last time, and details how his father's parenting decisions let to who he is today. Also, a giant month for comedy in Detroit as the guys saw Bill Burr, Dave Attell, Mark Normand and Brad Williams in person and have their reviews and some backstage stories. Plus, tons of great movie and TV recommendations like The Beatles: Get Back, House of Gucci, Last Night in Soho, Spencer, How To With John Wilson, Pen15 and Joel tells you why Tiger King 2 is actually better than Tiger King 1.
Joel's $400 view of The Rolling Stones. Worth it?
Joel returns with the sad news of his Dad's passing in August, the reason he took a break from the show, and shares his family's story of dealing with the ravages of Alzheimer's on a loved one. He also details why he missed the Gathering of the Juggalos this year and you can probably guess why. If that wasn't enough, Norm Macdonald, passed and the world finally recognized what a genius he was. Find out what happened when Norm and Joel had dinner one night. On the sunnier side, Layla joins the show to talk about her and Joel's recent trip to Miami Beach, the downside of staying at a high-end hotel, and why Miami is really nice, but not for everyone. Plus, a review of No Time To Die – Layla's first James Bond movie! – and more including Free Guy, The White Lotus, Ted Lasso, Impeachment: American Crime Story, Nine Perfect Strangers, Come From Away, and much more.
Joel and his Dad
Joel rarely talks about Pro Wrestling on this show, but he has a long history with it as a fan and as a ring announcer, and he shares some of those stories on this week's show. He's joined in this by Chicago-area and JCW wrestling legend Vito Thomaselli, who hadn't seen or talked to Joel in over twelve years! Vito's got a lot going on now like appearing on WWE's Most Wanted Treasures on A&E recently, and his own animated wrestling TV show, The Carnies. Vito and Joel talk what it's like to work for the notorious Violent J of Insane Clown Posse, Joel shares his memories of his first ever wrestling show he attended in 1985, and much, much more. It's good talk! Enjoy! Also, Joel gives his solo reviews of McCartney 3,2,1, the excellent Clarkson's Farm, the Detroit-lensed No Sudden Move, and enjoys the problems of white people on The White Lotus.
Top Dolla, Vito Tomaselli, and the legendary Booker T make a deal on A&E
Joel's main squeeze Layla returns to the podcast to talk their awful experience in returning to a movie theater after over a year of not going to one. The movie was good (A Quiet Place Part 2), but the people were not. Hear why this was all Joel's fault – according to Layla! – and how he would run movie theaters differently if he was in charge. Also, Layla remembers Bill Hildebrandt, and the end of Covid restrictions and why Joel was 100% right about how to distribute the vaccine. Plus, tons of TV and movie reviews, including the highly recommended Hacks, Cruel Summer, Starstruck, Mare of Easttown, and the Kid Detective amongst many more. They also discuss the less-recommended Cruella and why all Disney movies start the same way. Please don't stand up and talk during this show!
Layla is ready for her close-up
It is with a very heavy heart that Joel says goodbye to his mentor, friend and "Comedy Dad", Bill Hildebrandt who passed recently. Joel tries to avoid crying (and fails!) by inviting some of Bill's good friends, comedians Derek Richards and Kevin Kramis on the show. Joel and Derek talk Bill's time playing in Vegas, the history of "The Mug" and its accompanying bit, and why Bill was the curmudgeon comedian we all loved. Kevin joins to talk about Bill as a comedy teacher, working with Soupy Sales, why Bill made the "hands bit" work (in an emergency!), and Joel reminisces about doing comedy in a Home Depot, and tells how Bill was almost Upchuck the Clown. It's a bittersweet show, but hopefully a loving tribute to great friend and great comedian. Details of the official memorial for Bill can be found on Facebook by clicking here.
A few of the pics Joel took of Bill Hildebrandt at The Comedy Castle for his new headshots
The annual massive Movie Mania show consisting of Joel's best movies of the year, the worst movies of the year, Oscar predictions and more is here! Joel is joined once again by Jason Fylan-Mares (or is it Jason FM?), and the guys have included a symbolic chair for the late, great Corey Hall to join them in spirit. Some of the highlights are Joel saying that Mank is representative of the problems with Netflix's original programming, why Tenet is just a Christopher Nolan James Bond movie, and why Pixar's Soul is one of the worst movies of the year. Plus, Layla does her "Sleepy Awards" for the movies she fell asleep during in the past year! If you're into movies, then this is the show for you!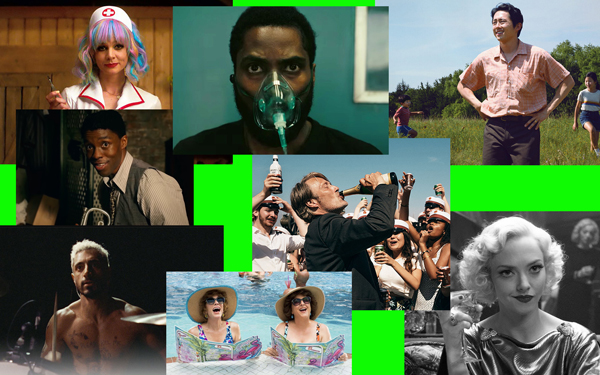 Some really good movies came out this year. None of which were named Wonder Woman 1984.
Joel welcomes pro wrestler/comedian and would-be filmmaker Mikey Gordon to the show. Mikey and Joel met at The Gathering of the Juggalos, and have crossed paths at diverse places over the years including Detroit, California and Oklahoma City. Mikey details his attempt at making a feature film, how you can help support it, and the unique way way it will eventually be released. Mikey also tells tales of jobbing on WWE Raw, drive-thru wrestling, and Joel revisits the night a pro-wrestler him in the head with a chair. Ouch. Plus, Layla reviews stuff like Wandavision, Frayed on HBO Max, and Search Party (and Save Yourselves with the same exact guy!). Plus, Joel's Oscars spin says no-one could possibly enjoy Mank, an explainer on My Octopus Story, and he runs down exactly what he needs to see pre-Movie Mania.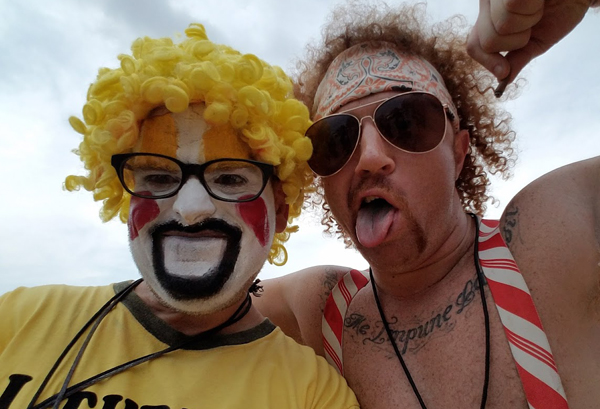 Upchuck and Dirty Ron trying to enjoy the hell that is Oklahoma City in 2017