Archive for
November, 2018
The holiday movie season (and Oscar season) is in full-swing as Joel and Ted Moss review some of the award hopefuls including the very good Green Book, and the awful Netflix/Coen Brothers cash-burn The Ballad of Buster Scruggs. What's worth a look this holiday?  Lots of reviews to hear as Melissa McCarthy gets serious, those Asians are Rich and Crazy, and a remarkable documentary, Three Identical Strangers. There's also a big argument over a depressing movie with a great performance as well. Plus, Joel performs in front of the "Unalughing Fat Guy" again, Ted goes west on Amtrak and visits Amazon even though he doesn't subscribe, why everyone should watch YouTube videos, and Joel receives the worst Christmas card ever – from Ted.
[display_podcast]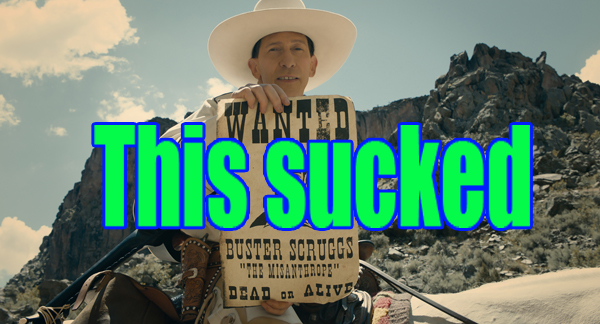 Turn this movie off after the first story. Trust us!
Comedian Ted Moss returns to tell of his recent audition for America's Got Talent. While Joel explains that reality TV show auditions aren't all they are cracked up to be, Ted says that his went well. Hear all the details of how it's not like what you see on TV and how many jugglers were practicing in the waiting room. Joel and Ted also talk lots of comedy including Joel's recent experience at open mike. Find out why one guy wouldn't laugh when everyone else did, and why a comedian shouldn't get upset about it. The guys also clash over the notion that new comedians have a "blueprint" of who they'd like to be in the business. Joel says almost everyone does, while Ted (unbelievably) thinks that's idiotic. Also, Joel, Ted and some friends tried an escape room. did they escape? Find out who was helpful and who wasn't and hear Ted's criticisms of the particular escape room they attempted. Plus, Joel thinks he found the funniest show ever on Amazon Prime, Ted watches new specials from Joe Rogan and Adam Sandler, and Joel's full guide to why comedy contests are the worst.
[display_podcast]
A single frame from HITOSHI MATSUMOTO Presents Documental on Amazon. So funny!
The supermarket Kroger has made house-brand cheese snacks that mock stand-up comedy and Joel and Corey Hall were upset. Then they ate them and thought they weren't half-bad. Hear the controversy and why the actual snacks aren't exactly what they thought they were. Also, Joel does Halloween – the movie – and a haunted house, too. Hear the psychology of the hype of a haunted house and how that applies to restaurants and other businesses. Plus, Sal Demilio calls in to promote his new show, Louis CK should just go away, Joel races "professional" go-karts, HBO's Camping is absolutely terrible and Corey's take on A Star is Born and First Man.
[display_podcast]