Archive for
November, 2016
After nine years away, Joel welcomes back Mac Kelly, aka TV horror host Wolfman Mac, to the show. Mac was just beginning his climb to national fame when he last appeared and now he's looking for his next move. Hear about how his show evolved to get national clearances, the financial challenges of doing a show yourself, and the risks and rewards of following your passion. Joel has some new ideas for Wolfman Mac going forward, details his own challenges with this podcast, and tries to find out what happened to Mac's other trade – commercial radio. It's a fun, frank discussion about chasing your dreams and the reality that inevitably catches up with them. Also, a big TV and movie round-up sees the Top Gear guys return on The Grand Tour, Joel gets Oscar-baited at Nocturnal Animals, Search Party isn't a good as Joel wants it to be, and Green Room is the most terrifying, must-see movie of the year. Plus, the new Oasis documentary takes Joel back to England in the summer of 1994. It's a good watch, but what happened to the drummer? Does anyone know where the drummer is? It's a baffling change to what was an almost authoritative, compelling film.
[display_podcast]
The updated Wolfman Mac, coming to a TV – or YouTube – near you
Joel proudly welcomes 20-year-old comedy sensation Sam Silverstein to the podcast. Sam was one of Joel's comedy students and the two remember Sams's first night at the Comedy Castle – a weird performance at a Jewish fundraiser – and chronicle his rise from a high-schooler on the open mikes, to his own charity fundraisers, to a paid booking at the same club he debuted at next year. Sam's a great example of hard-working rising talent in comedy and there's a lot of good advice for anyone in the same position on this show. Also, Joel's weight-loss hits an important milestone. Hear the details of the diet, the pros and cons of exercise, and why the BMI chart is bullshit but Joel's using it anyway. Plus, Joel's new radio gig, a gigantic rundown of TV and movies including The Arrival, Westworld, a documentary that will make you cry, Woody Allen's attempt at episodic televison, and where to see the wold's hottest actress naked.
[display_podcast]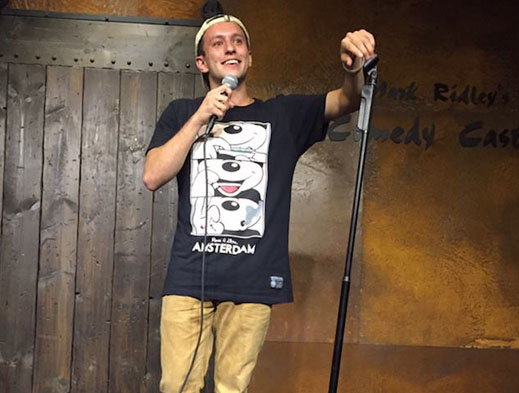 Sam is so happy on stage at The Comedy Castle