Archive for
September, 2014
There's nothing worse than a comedian singing. Well, maybe, a singer telling jokes – but either way Joel Radio brings you a definitive list of the worst examples of comedians singing, from straight up, humorless covers, to awful Christmas songs and some of the lamest attempts at rapping ever, you'll hear it all on this show. Which comic covers the Beatles? Which one hates joke thieves while ripping off Public Enemy? Which one sings about sticking things in his backside? It's a definitive countdown of the most awful, cringe worthy, humorless songs ever sung by comedians you might actually like otherwise. Joel and Corey are joined by John Tenney, who announces his new TV project, a new take on ghost-hunting shows that's coming to basic cable very soon. Also, the guys cook up an idea for a comedy reality show, Meredith Viera has a ten-piece band in her living room, and Joel gets a magic trick right – on the second try. Plus, a melancholy goodbye to Joan Rivers, one of comedy's all-time greats.
[display_podcast]
This Eddie Murphy song is awful on many levels, but it's still not the worst one ever……
While not a weird Oreo flavor or a wacky Jones Soda variety, Little Caesar's introducing a pretzel crust pizza seemed like a good thing to investigate. Turns out this delicious food mash-up is better as idea than a real-world dinner item as neither Joel nor Corey really enjoyed the thing that much. Find out which standard pizza ingredient was left out, what it was replaced for and why kosher salt should be banned from pizzas from this point forward. Spend the time listening to this show rather than the $7 it cost for the pizza because, in the end – they're both a waste! Also, the guys crack the case of the leaked celebrity nudes. Find out which ones are real, which are fake and why Jennifer Lawrence and Kate Upton claiming to be victims is laughable. Plus, a review of the Oddball Comedy Festival in Detroit, including a famous comic who, while short of bombing, did not do well. All this, and Joel appears in another movie (this time on Netflix), Houdini gets a miniseries, and Saved By The Bell gets an awful, cringe-worthy TV movie that Corey was forced to watch.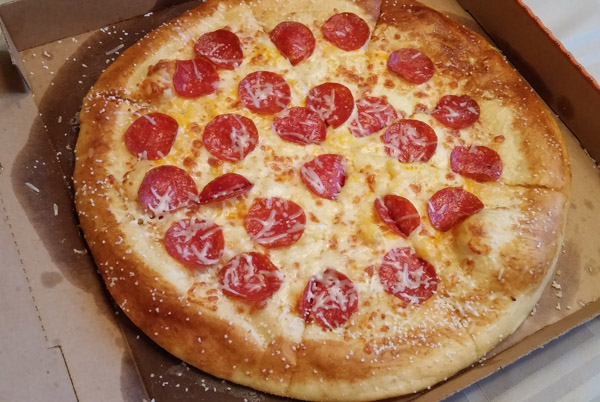 The actual pie that was half-consumed by Corey and Joel. They should have eaten the box.