Archive for
December, 2020
The last show of 2020 has Joel updating everyone on his second dose of the Covid-19 vaccine. Spoilers, he's doing fine, and he's encouraging for people to take it themselves when they can. Joel is joined by journalist Steve Miller who feels the delivery of the vaccine could be a problem and the guys come up with some inventive ways to distribute it. Perhaps the most obvious – just give it to anyone who wants it! Listen to this and be encouraged with the world's fight against Covid-19, even though it would probably be better with Joel leading the fight. Plus, Layla returns to chat about what's good on TV, like the holiday releases of Wonder Woman 1984, Soul, The Prom and much more. Find out why The Wilds on Prime is one of the best TV shows of the year, how The Mandalorian goes all fan-servicey, and why Murder on Middle Beach is perhaps the year's best true crime TV show. And Joel watches documentaries like the great Dick Johnson is Dead, the unbelievable (for a reason) Bloody Nose, Empty Pockets, and even sings like The Bee Gees.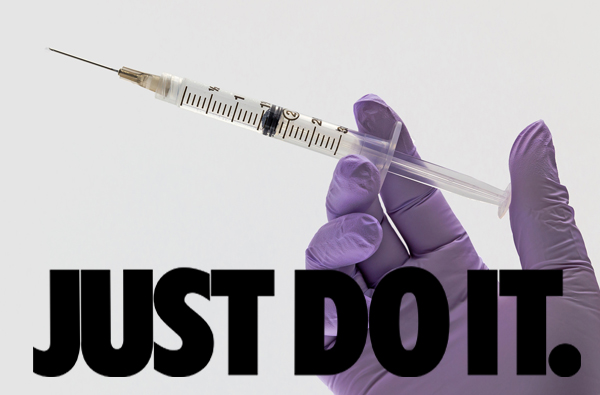 Don't be an asshole – take the vaccine.
Joel takes a Covid-19 vaccine trial and talks all about it on this show. He documents his journey to getting into the trial, the side effects he felt after the shot, the possibility of getting a placebo, how it affects a possible future vaccine mandate and much more. Should you get the vaccine yourself? Joel has a definite opinion on the subject – don't miss this show! Plus, Joel's girlfriend Layla returns to co-host and why Covid made that a necessity. And there's a giant TV and movie rundown including the incredible Wayne on Amazon Prime, HBO's incredible slate of The Flight Attendant, Murder on Middle Beach, Baby God, The Undoing, and much more. Plus, Happiest Season proves Christmas with lesbians is not as fun as it sounds, Joel has problems with The Comedy Store documentary, and how to explain Frank Zappa to a millennial in 2020.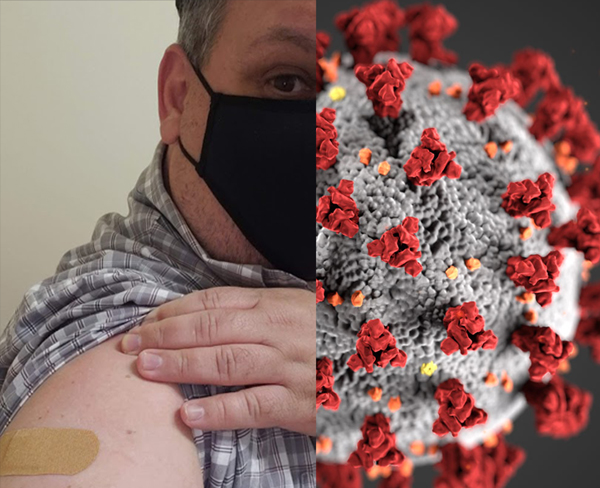 Joel moments after he got the vaccine, or the placebo. Nobody knows!