Archive for
February, 2018
It's the annual rundown of the best and worst films of 2017 on the annual Joel Radio Movie Mania extravaganza. Joel and Corey Hall have made their lists of the top fifteen films they liked the most from 2017 –  and there's some obscure ones in there, too – so if you're looking for something to watch, you're covered. The guys also handicap the Oscars, as Joel saw every nominated film in the major categories, and you'll get a rundown of the very worst films of the year, too. Hey, one of Corey's best is on Joel's worst – fight! Plus, the best documentaries of the year, Corey steps on Joel's joke, and peanut butter Ho-Hos – the perfect baked treat or a useless re-invention?
[display_podcast]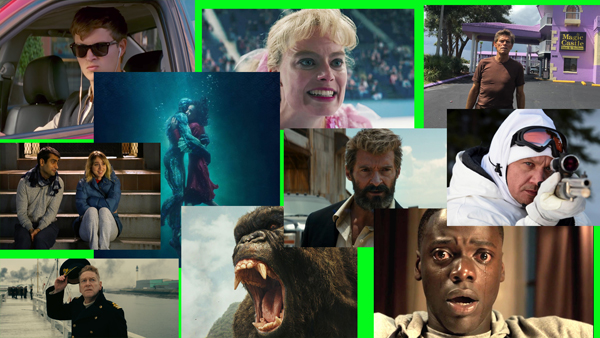 Some of the best shots from the best movies of the year – and one of Baby Driver
Another Super Bowl has come and gone, and while neither Joel nor Corey Hall really cared who won, the game was entertaining and what happened afterwards in Philadelphia was insane. The fans partied, rioted and acted exactly as you would have expected considering Philly's reputation. Hear the undoubtedly incomplete list of crazy shit the fans did in celebration the team's victory on this show. The guys also talk about the lukewarm halftime show, the commercials, (including a new Star Wars trailer), what the guys ate during the game, and how TV's biggest goat on Sunday will now be the head coach of the Detroit Lions. Also, Quentin Tarantino is starting to look really bad in regards to how he treated Uma Thurman, Molly's Game gets reviewed, more on The Shape of Water, Columbus and The Florida Project, Joel sees some Oscar-worthy, but surprising documentaries, and how to learn everything you ever wanted to know about Star Wars toys. Plus, Mark E. Smith of The Fall has died and Joel has a tribute to great music made a legendarily cantankerous asshole.
[display_podcast]
Eagles fans being eagles fans