Archive for
April, 2014
Joel Radio proudly hosts some of Detroit's best veteran comedians for a memorable "Old Guys" roundtable, featuring Tim Rowlands, Jef Brannan, and Billy Ray Bauer. The guys are promoting an upcoming benefit show for Tim's son's Eagle Scout project – and if you could earn a badge for sitting around telling comedy road stories Joel and the guys would earn one on this show. Among the topics, the good old days of making $1000 a week, the difference between young comedians and veterans, and why the business is going to more private and charity shows – and why that may be a good thing. Also, hilarious stories of Billy Ray vs a moose, Tim sleeping in the club owner's garage, Jef losing his paycheck at the blackjack table (and getting it back, so he says), and young comedian Joel seduced and nearly bedded by a famous female comedian. Plus, don't make fun of the drunken, inbred Indians (erm, Native Americans), don't make fun of the comedy club's PA system, and don't bring your "B"-level jokes to the "A" room. This show is both an education and good time, as will be the show this weekend, so do your part and come see some of the funniest guys ever on one stage for one night.
[display_podcast]
Here's a flyer for the benefit. All these guys wouldn't fit in the studio!
Joel returns to host O'Mara's Comedy Night for March and the results are spectacular! Joel himself starts out the night with all new material, including riffing on the Gweynth Paltrow/Chris Martin divorce, the worst things on the internet, and why Kermit The Frog is not an asshole. It's a night of strong premises from Joel, but a joke is not a premise alone, and the audience responds in kind. Writing jokes is hard! Still, the raucous crowd enjoys a great night of performances, including John Tenney recounting his bus driving days and reading out of the newspaper, Jeff Scheen returns from Chicago to do a wickedly funny set, Gary Sylvester tells us why it sucks getting old, and the always-funny Jeff Horste gets berated by the host for missing his opening spot for the most hilarious of reasons. Never number two, when you're number one, OK? Also, Ray Topper is so funny you will want to have a stroke and "The Most Autistic Man in Showbiz" Andrew Ackner keeps the handicapped humor coming  with a decidedly un-PC set that is a big hit with O'Mara's crowd. Also, strong sets from Wesley Ward, Loyd Digg, Marty Smith, Carl Johnson, and Tanner Oliver make for an incredible night of comedy that is probably not safe for work, school, church or any place with a good sense of what is right and wrong.
[display_podcast]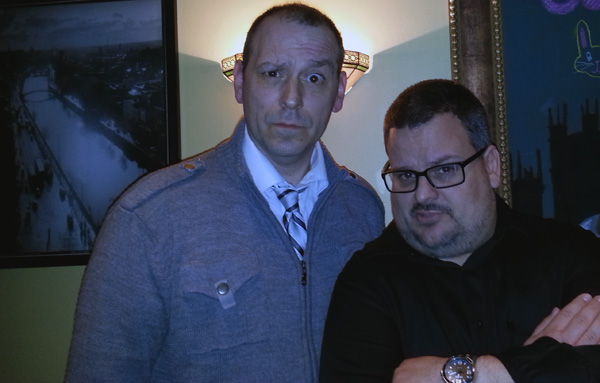 Joel exchanges weird looks with John Tenney……………..
And plots a money-making Special Olympics of Comedy with Andrew Ackner and Ray Topper