Archive for
October, 2013
It's that time of year for scary things. And this podcast is plenty scary. Paranormal investigator John E.L Tenney, Joins Joel and Corey and speaks on things we don't know, like if Bigfoot exists, the unseen particles that bind the universe together, and why Jay Leno appeared on Good Times. The guys also discuss the state of stand-up comedy and why new comics try risky bits that couldn't possibly work. Joel thinks that there's an attempt to achieve "brilliance" like Louis C.K. or Patton Oswalt, at the expense of getting laughs. Also the definition of a "comedian" comes into play – is Joel a comedian who hosts a podcast or a podcaster that does stand-up comedy? Is Joel even funny? Listen and find out. Also, what's wrong with daytime TV, from Katie Couric's digital blur to Dr. Oz feeling up housewives, the guys look at what's good (nothing) and bad (everything) on the boob tube and hear Joel's theory as how the Today Show lost out to Good Morning America. Plus, Corey hates Bad Grandpa, the rules of Halloween costumes, and Arsenio Hall's new show is as good as you remember – that is it isn't at all.
[display_podcast]
Sorry "Jonn", you always dreamed of your name in lights – so keep dreaming
The three most disgusting things on this show are not Joel, Corey and guest comedian Sal Demilio. It's either General Mills' retro repacking of the "Monster" cereals – Frute Brute, Boo Berry and Yummy Mummy, or Shaquille O"Neal's new Soda Shaq creme sodas. Actually Shaq's stuff is probably better on its own than the cereal, and we're not saying that just 'cause Sal's part of the company. Listen as the guys try all combinations and permutations of sweet sodas and sugary cereals as they discuss how to make it in the minor leagues of comedy, how to bet on the NFL and Corey's recent culinary tour of New England. Corey claims the "foodie" aspect of his vacation was happenstance, but never let the facts get in the way of a good Facebook post of a plate of clams. Also, a documentary round-up with something for Beatles fans, the late great Levon Helm, an excellent magic doc you can watch for free, and another of an icon past. Plus, which streaming service is the best, breakfast around the world compared and the new SNL cast is the same as every other SNL cast.
[display_podcast]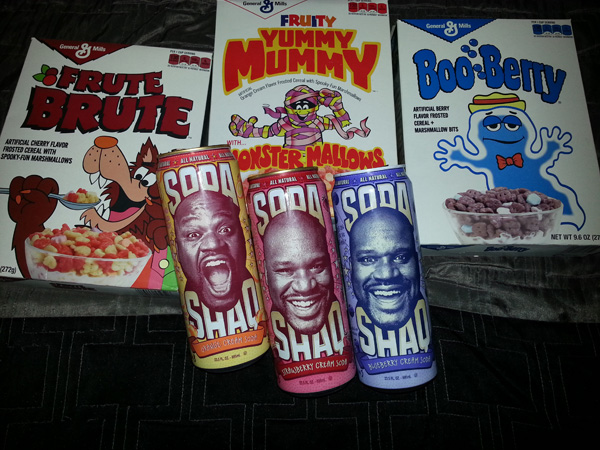 So sugary, even this picture is in bad taste