Archive for
October, 2015
Comics accused of stealing is a big deal in the world of comedy, and this week Joel and his guest comedian Bill Bushart attempt to get to the bottom of the most recent controversy of Amy Schumer being accused of lifting material from the late Patrice O'Neal. Did Amy steal material that seems to been available in the public domain for years? Can you even steal a street joke? The guys look at this issue and Joel's theory that comedy nerds and their accusations of theft are ruining comedy. Speaking of stealing, Joel spent a week watching the infamous "joke thief" Carlos Mencia working  a comedy club, and had some surprising takeaways. Find out why Joel thinks Carlos was an excellent performer, a shrewd businessman, and why Joe Rogan's smear videos on Carlos from a few years ago make Joe look like an asshole. Plus, how comedian and 9/11 liar Steve Rannazzisi fits into all this and why his involvement shows that Mencia really has gotten a raw deal. If that wasn't enough, the guys talk the importance of comedy classes, why it's great to work gigs in Florida, why opening for big acts kinda sucks, and the night Joel fired Jamie Kennedy. Also, The Walk and The Martian get reviewed and 3D formats get put to the test, Adam Ruins Everything is a show you should watch, and why your comedy "showcase" isn't helping anybody and a real-world example of why that is.
[display_podcast]
Amy, Patrice, Carlos, Joel, and Bill. The great comedy festival line-up that will never happen
Steve Miller is the man that wrote the book about Detroit Rock 'n Roll. He's actually written about a lot of things – things that Joel likes, too which makes him an excellent guest for this installment of Joel Radio. Joel enjoyed Detroit Rock City: The Uncensored History of Five Decades of Rock 'n Roll in America's Loudest City and has million questions about The MC5, The Stooges, Ted Nugent and Bob Seger and more. Was Grand Funk Railroad really a big deal? Why does everyone hate Nugent? Was Bookie's really the CBGB of Detroit? What really happened when Jack White started that fight? There's a lot to cover, but Steve either lived it, or talked to those who did and it makes for a fun, fascinating discussion. If you lived or enjoyed the Detroit Rock scene from the 1960s through the 2000s, you'll like this show. There's even some Ramones, Johnny Thunders and Bruce Springsteen talk shoehorned in to the conversation. Also, Steve's latest book tackles the bizarre Bob Bashara murder case, and the guys talk about how a rich a guy with a secret BDSM life had his wife killed for money and how the whole thing looks like a Coen Brothers movie. Plus, Steve has book coming next year about Insane Clown Posse and their Juggalo fans, hear Joel's opinion on why most mainstream writers get their coverage wrong, why Mike E. Clark is a genius and his importance to ICP, and Joel's message to the Juggalos and why his association with ICP has been nothing but a good thing. This is a great talk on so many levels, so listen to this, then bust your Raw Power vinyl and keep rocking.
[display_podcast]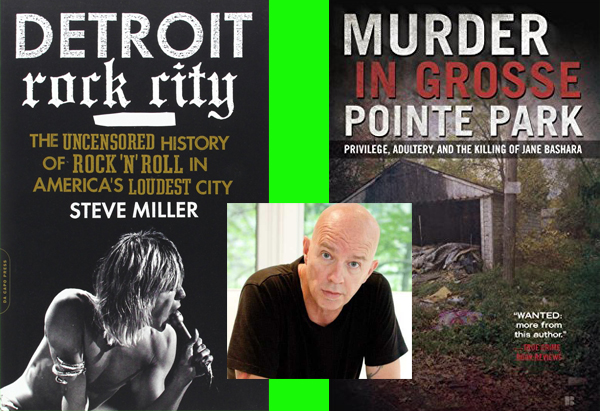 Author Steve Miller (inset) with two of his books discussed on this show
Joel Radio is happy to cover every gimmick comedian to come on the scene. From grandmothers to stutterers to puppet acts, this show has highlighted some of the wackiest comics to emerge over the years. Which makes this week's breakout comedy star, 10-year-old Saffron Herndon, fair game for this week's podcast. Joel listens to her set and has the obvious questions: did she write these jokes? If not, who did? Don't you have to have good timing to be a comedian? Joel is aided in his analysis by returning guest co-host Samantha Rager, a comedian herself who once performed on a show with Saffron. Sam is more positive than Joel is on the act, although she really didn't get the Nirvana joke – more evidence that those thoughts are  not of a 10-year-old when the smart, sophisticated mid-20s comic doesn't get it. Also, find out the one new embarrassing prime-time TV show that has actually watched, why he wants it to work, and why it doesn't. And late night TV gets an overhaul as Trevor Noah debuts, Stephen Colbert has the worst band ever, and Jimmy Fallon's nostalgia act is completely phony and Joel has the proof. Plus, Sam's humorous musings on love, the Steve Jobs documentary is a good one, and why the Everest 3D movie is the closest Joel ever wants to get to the real thing.
[display_podcast]