Archive for
May, 2018
The Jedi Council re-convenes for a review of the latest Star Wars movie: Solo: A Star Wars Story. Joel, Corey Hall, Josh Bowab and new member Paul, an artist and lifelong Star Wars fan, break down the latest film which was a plagued production with a director switch and a rush to release. It's actually pretty good, say some on the panel, with the filmmakers nailing the feel of the original trilogy with it's style and humor. The acting is pretty good, too. It's not all great, however, as there's a few cringe-worthy scenes and some logical leaps which hindered some of the Council's enjoyment. The guys also break down the Easter eggs, references and surprises  – and there are plenty. There's a lot of laughs on this show, too! And the first twenty minutes are spoiler-free! Plus, Joel watches The Last Jedi again and dislikes it even more this time. If you like Star Wars, you'll love this show.
[display_podcast]
Good artwork, at least!
It's so sad to say goodbye to friend and comedian Mike Lundy, a frequent guest on this podcast, who passed away recently. Joel and Corey share their memories of Mike, play some clips of Mike from the show and remember the great talent he was. Joel tried to assemble the best of his previous appearances on the show but ultimately didn't do the best job, so a further tribute is in order. You will hear a crossdresser try to get Mike to take his shirt off at Pridefest though, so there's that. The guys saved the eulogy for the end of the show, however, and there's a ton of "regular" content before that, like another audience/comedian fight,  Joel's trip to Toronto where he tried an escape room for the first time, Barry on HBO was really great, another Pro Wrestling Crate unboxing, and find out what new movie has a-list actresses doing it.
[display_podcast]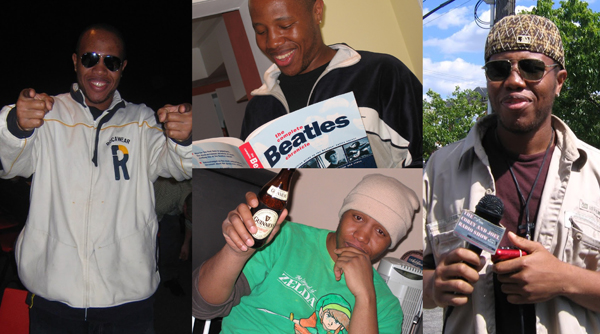 Some photos from Mike Lundy's appearances on the podcast. We will miss you, Mike
Kanye West went crazy this past week, but Joel think that's another day for him. Corey Hall disagrees and solicits the aid of comedian Jeff Horste, who calls in to tell us what he thinks as he grew up in Southfield, an ethnically mixed neighborhood, with a bad mustache. Jeff shares his thoughts on the hip-hop legend and shares stories of his newfound success working with Kevin Hart and filming a Comedy Central special in Los Angeles. Also, Jeff tells us about having a sex toy thrown at him onstage last week – you've made it now, Jeff! Plus, Mitzi Shore's belated obituary, Avengers: Infinity War gets reviewed and find out which Marvel films you should really see first, Joel reviews Blockers and The Greatest Showman, Conan goes to thirty minutes, and the White House Correspondents Dinner should probably go away for good.
[display_podcast]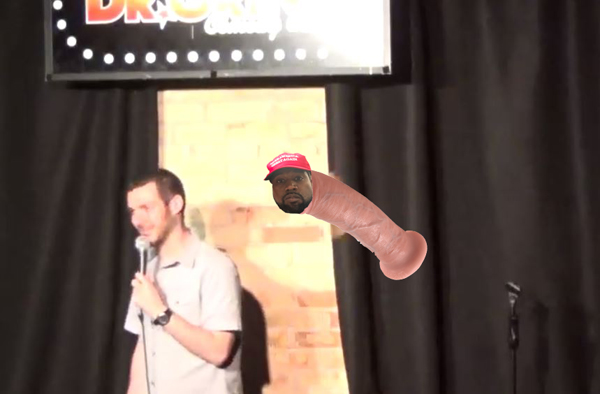 Photo was embellished for comedic effect, but you get the idea