Archive for
June, 2014
There's a full plate of nonsense on this episode, highlighted by a Joel Radio investigation into the recent hip-hop feud between Rick Ross and Detroit's own Trick-Trick. Since Joel and Corey can't make any sense of what went down, the call in the help of the help of their friends in the hip hop community. And since those guys don't answer they end up calling their old sports reporter buddy Chill who is amazingly helpful considering he's from the mean streets of Westland. The whole thing strikes the guys as ridiculous, but not before Joel starts claiming turf in the comedy scene and adopting his own rap moniker – Joke-Joke. Also, the guys get World Cup fever but that will clear up, Gilbert Gottfried gets a podcast but Joel can't take it, and The Transformers get a new movie and Corey can't stand that either. Plus, Joel explains the story of "The Beatle Who Vanished" including a musical trip back to the '60s before the guys get nostalgic for their own youth and tell the sure-fire way to tell the difference between the '90s music that was great and '90s music that sucked.
[display_podcast]
Trick-Trick chills in the studio with his favorite website
Joel Radio welcomes John Tenney to the panel for the first time in a while. John was present at the recent live show disaster and reminisces with Corey and Joel about how bad the show was, the etiquette of heckling, and how the venue really failed the show. From there it's a grab bag of stuff including, Joel's story of his Italiain heritage (which includes a donkey), John doesn't like the look of digital TV, Corey hates 3D, and a new Cheetos flavor gets rave reviews. Plus, Joel does a big show and gets booed for a great joke, a rundown of the E3 video game conference, and the economics of comedy – what it takes to hire a headliner and why John is looking to do so.
[display_podcast]
John gets friendly with Upchuck tha Clown, but oh, those cuts…………….
Some shows are released, others escape. That's what happened with this recording of Joel Radio's recent live comedy show at O'Mara's in Berkley, MI. It's a poor enough start with the club unable to dim the room lights and leaving the background music on to fight with the comics' PA. Joel makes a genuine effort with some new jokes before bringing up the entire line-up of the Comedy Castle show from across town. Still, with little audience, Kevin McPeek turn his spot into a workshop, Dwayne Gill brings his "A" material to a "D" room, and Tom McCarthy reminiscences about open mikes past – sharing a hilarious story about the legendary Club Bart show. The bombs keep getting dropped with Joel Radio's own Cory Hall, comedy student Jim VanHavermaat, and a returning Esther Navarez. A debuting Jonathan Jude gets a big intro from Joel but can't keep it going, and his buddy Jeff Thomas tries his best but can't seem to remember his material. You'll also hear the lovable Larry Marino go down in flames, and Avery Sommerfield has a new biggest fan in John Tenney. Through no fault of the comedians, this is easily the worst comedy show ever committed to podcast, so enjoy it if you can, listen if you must, but let's never, ever do something like this again.
[display_podcast]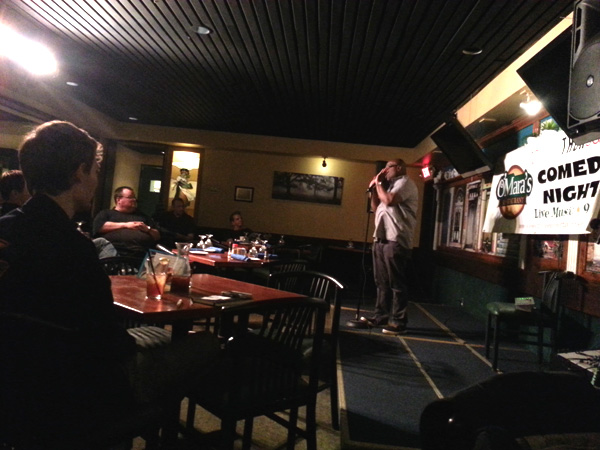 Comedian Dwayne Gill wishing he was somewhere else. Not unlike the audience!