Archive for
October, 2014
Growing old sucks. It must suck even more for a Hollywood actress like Renee Zellweger, who showed up at a red carpet event looking as good as you can expect a mid-40s actress can look – only looking like a completely different person. All the while stating how good she actually looks, Joel and Corey Hall break down the changes they see, why people are so outraged by the differences, and how past criticisms of her features make the current controversy so ridiculous. At least she doesn't look like Meg Ryan. Also, FOX's new sitcom Mulaney is a train wreck and the guys examine how poor casting, network notes and a lack of personality made this one of the fall's worst new shows. Plus, comedian Sal Demilio calls in with football picks, a San Francisco tour guide channels the Insane Clown Posse, The Flaming Lips and Fwends rape The Beatles, Corey reviews the movie Birdman, and so much more beautiful nonsense in a jam-packed two-hour show.
[display_podcast]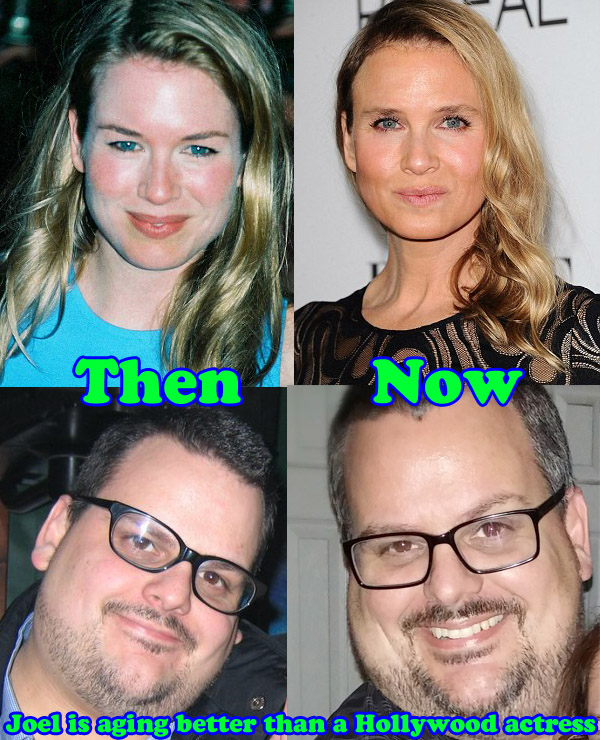 What's a modern girl gotta do to make it? That question probably won't be answered on this episode of Joel Radio, but returning guest comedian Samantha Rager tells of her wacky, hilarious ways of overcoming life's challenges. Hear how Sam placed a Craigslist ad for an imaginary loved one, and had her car washed away by a recent flood and the scumbag car dealer who ripped her off for a replacement. Also, hear her desire for a professional cuddler, the pitfalls of webcam modeling, and her (possible) interest in the profession of topless housekeeping. It's always a fun time when Sam's around, and get a hold of us if you wanna cuddle. Also, Corey finds some wacky old comedy shows on Hulu, John Tenney makes the papers for his TV debut this week, and Joel reviews St. Vincent, The Book of Life and Alexander and the Terrible, Horrible, No Good Very Bad Day. Plus, very few people have actually watched all of Abbott and Costello's thirty-six films, but Joel will soon be one of them.
[display_podcast]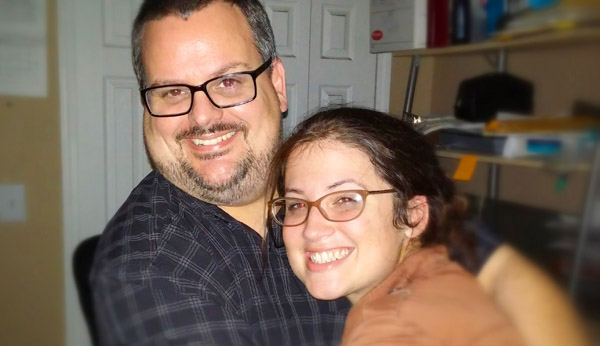 Samantha and her possible new cuddle pimp, Joel
Comedians are always looking for the next big score, and when they can't get it from comedy they do something else. Like old friend Bill Hildebrandt, who's a partner in a new invention by comedians that's hoping to make the bedroom more fun. It's nothing dirty, actually, but the Aussome TV Mount is an idea that might actually work. Bill discusses that challenges of being an inventor, the hopes he has for the device and pitches to Joel Radio's own Shark Tank – Joel and Corey Hall – but will he get any bites? Also, The guys reminisce about hell gigs, including the most infamous one ever; photos of which were recently uncovered over 10 years later. Plus, Joel gets teased for painting a cow, the history of the "hands" bit, reviews of Gone Girl, The Equalizer, Selfie, Red Oaks and a new can't-miss documentary on Netflix – Print The Legend.
[display_podcast]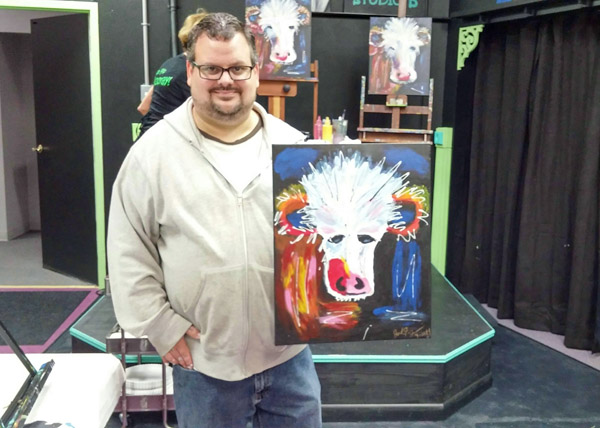 While it hardly looks like the instructor's cow, Joel did this all with his finger