Archive for
February, 2017
After the debacle that was the 2017 Oscars, Joel does his annual movie review show telling you all the best films of 2016 that you might have missed and which Oscar picks were just plain wrong. He is joined in this by movie critic-at-large Corey Hall, who returns to the show for the first time in months. Corey liked Jimmy Kimmel's performance as the host of the Oscars, but wasn't surprised by the fossilized Warren Beatty's screw-up. Joel is more offended by Moonlight winning best Picture as he thought it was the worst of the nominated films. Hear both guys' list of best movies of the year and the worst of the year, too – now with more Melissa McCarthy! Plus, Crashing gets comedy right on HBO, and Comedy Central's Detroiters gets the references right, but the comedy wrong.
[display_podcast]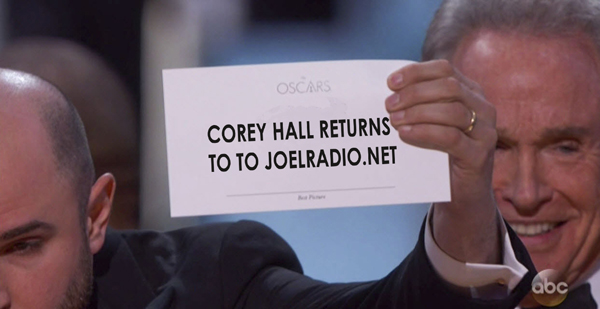 The Oscars isn't the only show with a big surprise
Joel Radio presents a contrast in comedy careers as Kevin Kramis, a veteran comedian, sports announcer and the former voice of the Michigan State Fair shares road stories and dispenses advice to Joel and Sophia Spagnuolo, a young comic with only a handful of shows and some improv experience under her belt. Kevin shares how he got started in the business, how he became the voice of the fair, and how comics are often stuck staying in the "comedy condo" or in the club owner's garage!  Sophia tells of her burning desire to do comedy and how she met Joel in the most Millennial way ever – on a podcast. It's a fun conversation that should inspire up-and-coming comedians and inspire others to never, ever even attempt a career in comedy. Also, Joel explains why Trump hysteria flies in the face of our system of government, why it seems like there's so much bad news today, and how American politics has turned into College Gameday. Plus, Joel gears up for the Oscars by watching the awful Martin Scorcese-directed Silence, the overrated Moonlight, the dull-as-dust Loving, and has half-dozen other depressing, no-fun movies to watch in the next month. This is a good, fun, long listen which should kill some time as you wait for your immigration papers to clear.
[display_podcast]
Sophia, Joel and Kevin sitting exactly as they did while recording the show