Archive for
February, 2012
If going to the gym wasn't hard enough wasn't hard enough, the bad music played there, makes it doubly tough drop the pounds. That's the premise laid out by Corey. That discussion – about having to listen to "Neutron Dance" while on a treadmill – starts a discussion about mass media, ironic metal fans, when Happy Days started to suck, and whether the Big Ragoo actually nailed Shirley. The guys break down the failure of popular culture and how a the rise of various sub-cultures have made '90s angst irrelevant and a little embarrassing. Also, Eastbound and Down returns – Joel loves it but says a new HBO show misses, Ricky Gervais puppets a midget, a brief Oscar preview and why real Navy SEALs make real bad actors. Plus, a memo to SNL – real celebrity + impersonator = lazy, shitty comedy.
Hit the "play" button below to listen or right click the "Download" link below and save the file
[display_podcast]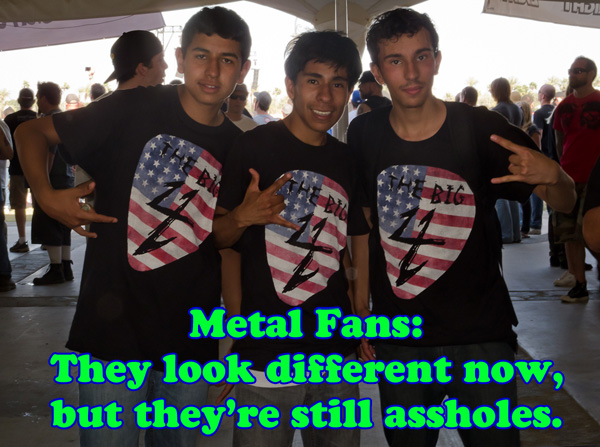 The above image pretty much sums it up.
It's the big Joel Radio post-Super Bowl extravaganza, which is made slightly less super by the game being not so great (until the finish), the commercials sucking, and Madonna making the terrorists hate us even more. Still, Joel and Corey have you covered for discussion of Bud Light Platinum, the joy of punting, M.I.A. is an asshole and why Godaddy can't seemingly find a hot chick for the commercial. Find out if the guys endorse Met Life's cartoon character sizing, discuss the bad example Doritos sets (for rednecks), and get the whole history of half-time shows from the truly awful to the pretty good to the pretty bad. Plus, Joel is on a "Who kick" so listen for what was The Who's greatest performance ever, and while the both love The Beatles, how Corey was more of a Beach Boys guy. Also, Trump becomes Captain Obvious by endorsing Romney, The Rock's movie career dissected, Joel's embarrassing commercial opportunity, and Ray Stevens – coming to a jerkwater berg near you.
Hit the "play" button below to listen or right click the "Download" link below and save the file
[display_podcast]