Posts tagged
France
It's been a long time and a lot has happened to our intrepid podcasters since the last show. Corey got married and jetted over to Europe for the honeymoon, where he and his new bride indulged in sightseeing, museum touring and french fry eating. Joel, meanwhile, took his prize to see Bruce Springsteen in Chicago at Wrigley Field. Again, a fine trip, with the exception of the pouring rain during the show, the sea of humanity on the Red Line train and the ass-rape prices for everything including a near $100 trip to the aquarium. Hear about Corey making jam for the wedding guests, why he almost missed his flight, and why Amsterdam's red-light district didn't entertain the missus. While Joel's GF enjoyed the concert, especially the special guests, but not Eddie Vedder as much as that "other guy" whom she never heard of. Plus, it's a historic candy crossover at Costco, the real difference between Snickers and Milky Way (it's not just peanuts!), and Corey's pessimism about the new TV season is summed up in one new show.
[display_podcast]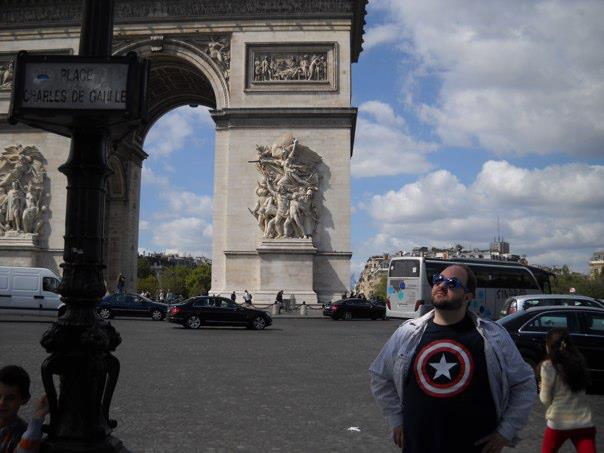 Corey brings a bit of America to France……….
…….while Joel takes THAT picture in front of Wrigley Field………………. 
…….to watch Bruce do this! Awesome!!!!!!
The world went Olympic crazy over the past few weeks. Unfortunately it didn't happen to two surly comics in Metro Detroit. As the world was captivated my synchronized swimming, water polo, and kayaking, Joel and Corey thought the whole thing was a silly, jingoistic, poorly-covered mess. And that Olympic Village isn't an orgy! It just isn't. A decent college party maybe, but nobody's banging those female gymnasts – certainly not the male gymnasts! And what happened to good-looking American female beach volleyball players? Has Europe overthrown America's dominance in cute bathing suit-clad asses? Listen and find out. Also, Joel returns from The Gathering of the Juggalos, and shares his tales of sharing the stage with Cheech and Chong, Ralphie May and Bobcat Goldthwait. And Corey worked with Hal Sparks! Whoever the fuck that is! Just kidding! And Corey is about to get married. Hear his wedding plan nightmares and find out if France will actually be open for the Honeymoon.
[display_podcast]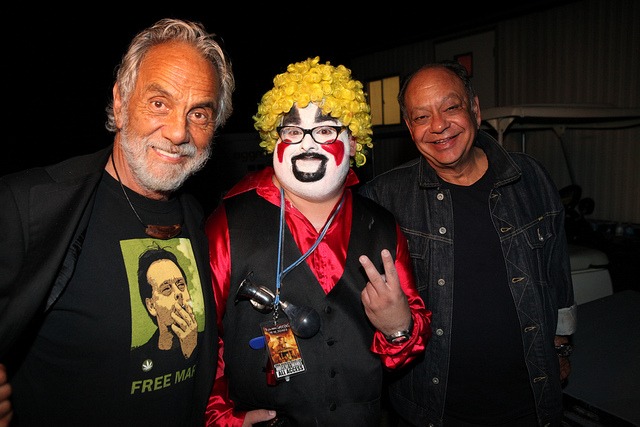 Joel clowns it up in a Cheech and Chong Sandwich (actually Chong and Cheech)


And the now completely offensive Basketball Jones clip by Corey's request