Posts tagged
Jon Stewart
Joel Radio has long been the show of record for changes in the late night talk show landscape. This past week's debut of The Late Late Show with James Corden was unique, as Joel and Corey don't agree at all about the show with one host despising its very existence and the other finding it competent with the potential to be really good. Let's not spoil who liked it and who didn't, but the argument on the show is fierce, heated and funny as always. Also, Comedy Central has found Jon Stewart's replacement and his history of bad and possibly offensive tweets may doom his future as host of The Daily Show. Plus, Jeremy Clarkson gets sacked, HBO's Scientology documentary is terrific, the Flight of the Conchords guys make a vampire comedy, and season four of Girls sees an unlikely return to form.
[display_podcast]
It's likely Corey instantaneously hated this photo
Joel and Corey were driven nuts by the deluge of media stories this week. Jon Stewart quit, Brian Williams got suspended, and Kanye West went crazy. There is also the 40th anniversary of Saturday Night Live, and the controversial list of the best cast members in history. Joel tries to guess the top ten, and probably does a better job than Rolling Stone. Hear who's ranked too high and who gets the shaft (Norm Macdonald is great! – Joel). Also, find out possible replacements for Stewart at The Daily Show, Joel's simple summation of what's wrong with Brian Williams, and lots of hate for Kanye – but none better than this guy. Plus, the guys say mean things about Sam Smith, Corey gets chicken & waffles (eventually), and Joel goes to a Brazilain steakhouse and won't be eating again for a while. Listen, laugh and then help Corey get a shockmount.
[display_podcast]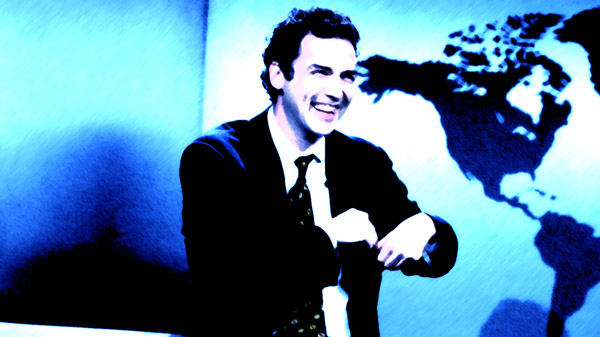 We're sorry, but there aren't 134 people who have ever lived that are or were funnier than Norm Macdonald