Posts tagged
Stephen Colbert
After a well-received live show, Joel returns to the studio with Corey Hall to recap his eventful vacation to Florida and New York City. The highlights include riding wacky tourist bikes on Marco Island, and a very funny appearance by New Jersey Governor Chris Christie at Bruce Springsteen's tour finale in Brooklyn. Joel also ate at some legendary New York establishments, although Corey is not impressed with Joel's selection. The guys also say goodbye to Prince, and Joel put together a selection his career highlights as well as some popular songs that he wrote that were covered by others. It's a far-reaching list of some of the best tunes of the era and you'll also hear Prince's Minnesota Vikings theme song that we're not sure was ever used. Also, television controversy as Kelly Ripa feuds with Michael Strahan, Stephen Colbert gets rebooted, and Steve Harvey gets another TV show and Corey can't take it anymore. Plus, Flea butchers the national anthem, the prophetic Prince blind item that predicted his death, and Shake Shack vs In-N-Out Burger from one person's opinion that's had both.
[display_podcast]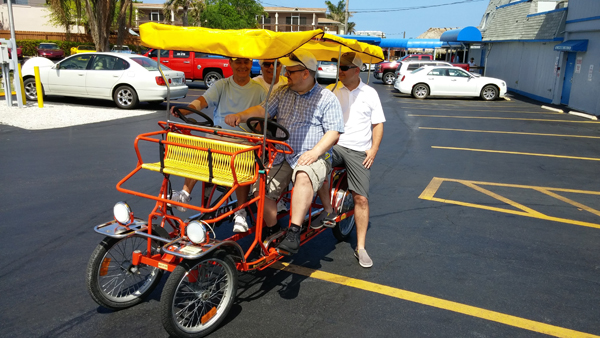 Joel proves it's impossible to look cool on a Surrey Bike….

….and watch as Chris Christie sings and shakes to the Boss
Joel Radio is happy to cover every gimmick comedian to come on the scene. From grandmothers to stutterers to puppet acts, this show has highlighted some of the wackiest comics to emerge over the years. Which makes this week's breakout comedy star, 10-year-old Saffron Herndon, fair game for this week's podcast. Joel listens to her set and has the obvious questions: did she write these jokes? If not, who did? Don't you have to have good timing to be a comedian? Joel is aided in his analysis by returning guest co-host Samantha Rager, a comedian herself who once performed on a show with Saffron. Sam is more positive than Joel is on the act, although she really didn't get the Nirvana joke – more evidence that those thoughts are  not of a 10-year-old when the smart, sophisticated mid-20s comic doesn't get it. Also, find out the one new embarrassing prime-time TV show that has actually watched, why he wants it to work, and why it doesn't. And late night TV gets an overhaul as Trevor Noah debuts, Stephen Colbert has the worst band ever, and Jimmy Fallon's nostalgia act is completely phony and Joel has the proof. Plus, Sam's humorous musings on love, the Steve Jobs documentary is a good one, and why the Everest 3D movie is the closest Joel ever wants to get to the real thing.
[display_podcast]