Posts tagged
Prince
After a well-received live show, Joel returns to the studio with Corey Hall to recap his eventful vacation to Florida and New York City. The highlights include riding wacky tourist bikes on Marco Island, and a very funny appearance by New Jersey Governor Chris Christie at Bruce Springsteen's tour finale in Brooklyn. Joel also ate at some legendary New York establishments, although Corey is not impressed with Joel's selection. The guys also say goodbye to Prince, and Joel put together a selection his career highlights as well as some popular songs that he wrote that were covered by others. It's a far-reaching list of some of the best tunes of the era and you'll also hear Prince's Minnesota Vikings theme song that we're not sure was ever used. Also, television controversy as Kelly Ripa feuds with Michael Strahan, Stephen Colbert gets rebooted, and Steve Harvey gets another TV show and Corey can't take it anymore. Plus, Flea butchers the national anthem, the prophetic Prince blind item that predicted his death, and Shake Shack vs In-N-Out Burger from one person's opinion that's had both.
[display_podcast]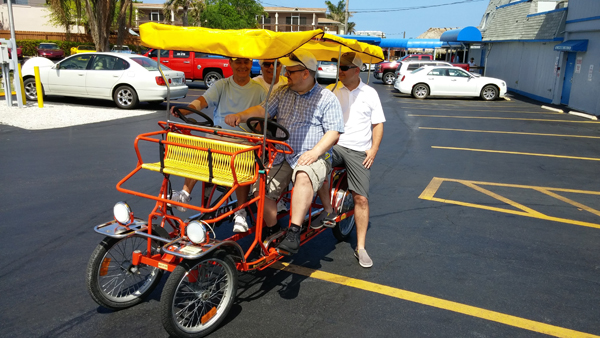 Joel proves it's impossible to look cool on a Surrey Bike….

….and watch as Chris Christie sings and shakes to the Boss
If you don't take the title too literally, you'll have a great time listening to this episode of Joel Radio. The title is a reference to co-host John Tenney's evaluation of the show – mid-show! Firstly, regular co-host Corey checks in from his cross-country road trip, eating his way out to the West coast. Find out why he's doing such a thing, why he's taking forever to do it, and what old show favorite is along for the ride. Back in-studio, the guys' guest is the fabulous Janet, a "relationship expert", blogger, and all-around good time who shares her advice for singles as well as stories from her own dating life. Find out about Janet's "thing for comedians", how she almost banged Daniel Tosh, why hot tubs aren't sexy and why guys shouldn't sing karaoke. The karaoke theory though, is nearly instantaneously destroyed by John and Joel's amazing rendition of a Prince classic, one that is sure melt the hearts and moisten the panties of anyone who hears it. Plus, Tenney's pains are spreading, Joel murders a Woody Allen classic, Harry checks in from The Twilight Zone, and John's parents are the best radio guests ever – just never have them back. Listen to this one late and drunk, 'cause that's how it was made.
[display_podcast]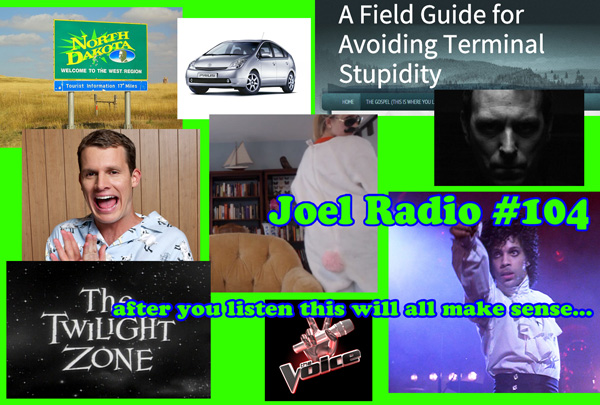 Enjoy this collage of images in place of pictures of the beautiful Janet that Joel forgot to take ('cause he was too drunk)