Posts tagged
The Farewell
Comedian Ted Moss returns, although it's best to describe him as artist Ted Moss for the purposes of this show. Ted painted a portrait of his comedy buddies, including Joel, and while it doesn't suck, Joel has some questions. Why are there no faces? Why is Joel on a box? It's an odd thing to do, but that's Ted! Always entertaining. Also, the guys talk about the traits of good comedians, comedy cliques, and Joel's theory on why people don't come back to comedy shows. If you're producing a comedy show, you need to listen to this! Plus a deep dive review of The Irishman, Joel digs The Mandalorian, Ted ruins the great film Parasite for himself, The Farewell is a snoozer, Bikram is an asshole and much more.
Can you spot Joel among the luminaries in Ted's painting?
Jerry Seinfeld is the the nicest guy in comedy – unless you're Bobcat Goldthwait, maybe. Joel and Corey Hall do an investigation into the comic with the weird voice that Seinfeld hates per his new episode of Comedians in Cars Getting Coffee on Netflix. The named is bleeped out, but hear the reasons the guys think Jerry hates Bobcat and why he's still angry even though Bobcat is successful and talented to this day. It's weird comedy politics at play and an insight into showbiz jealousy and ego that Joel and Corey can relate to. Also, Jerry gets coffee with Eddie Murphy and it's not that great. Nothing with Eddie is great anymore! Plus, comedians vs rap fans, Police Academy memories galore, which Murray brother is which, reviews of Pen15 on Hulu, the new, awful Lion King movie and Corey says The Farewell is a great film – even with Awkwafina.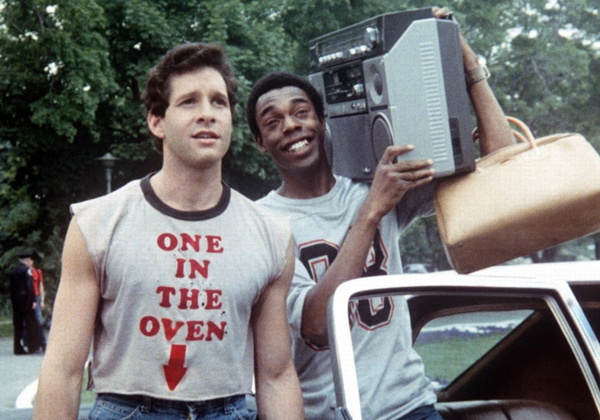 An early picture of Seinfeld and Eddie Murphy getting coffee