Posts tagged
Tonight Show
It's the dawning of a new era in late night TV as Jimmy Fallon takes over the Tonight Show. The critical mass has been largely positive on the shows first few episodes, but can Jimmy Fallon win over card-carrying Leno-haters Joel and Corey? Joel's thinking no, as the kiss-ass interviews and lame party games are sure to deflate any discerning viewers interest,  and Jimmy's lack of comedic teeth will soon make the show as dull as any number of daytime TV's talkers. Corey sees some light on the horizon, but is more happy about Leno's ouster than anything else. Hear their hard hitting criticism, including Joel's twitter play-by-play that was so scorching the mainstream media picked up on it. Also, Emma Stone may or may not be nude on the internet and the guys pour over paparazzi bikini pics to do some comparisons – even more expert analysis! Plus, podcasting's technical details explained by Joel, if you hate coffee you're a commie (according to Corey), and looking at people's ex-girlfriends is a total blast and how you can do it yourself.
[display_podcast]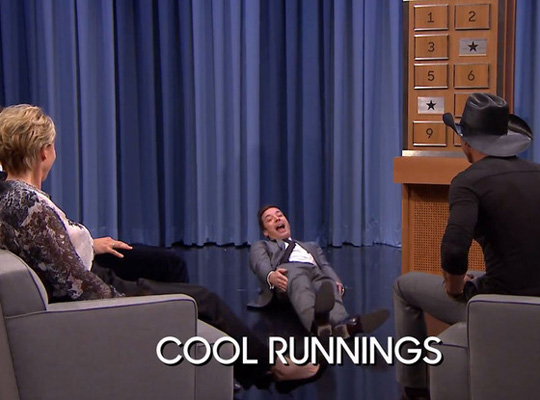 This games of charades was as funny as it looks. Thanks, Jimmy.
It's our one year anniversary super show – live from Club Bart in Ferndale, MI. Corey and Joel entertain a packed house with a full roster of great comedians. Dan Decapua, leads the way, then Joel and Dan bury the hatchet over a "stolen" joke. Then it's Tonight Show-veteran, Jimmy Pardo, performing a side-splitting "greatest hits" set. Jimmy kills and then discusses his unique Star Trek connection, appearing on the Surreal Life and (rightfully) swipes at Larry the Cable Guy and Dane Cook. Then we've got talented impressionist, comedienne and Comcast commercial star, Amy Phillips. She's more than a pretty face, as Amy does dead-on impressions of Ellen Degeneres and Robin Quivers, and then suffers through Joel's convoluted story of finding true love at Amy's play. An hour of podcasting excellence, bar none.
Right click here to download – 60 minutes, 23 megs


The guys pose outside, the Jimmy Pardo interview, and some troll poses with Amy Phillips
Join the mailing list for more pictures!