Posts tagged
Top Gear
There's been a lot of eulogies of famous celebrities on the podcast this year – David Bowie, George Martin, Prince – but it's time to do another, as Joel and Corey Hall remember one of the greatest fighters and most entertaining sports stars ever, Muhammad Ali. They reminisce about his comic book appearances, his pro wrestling-style interviews and his various attempts to act and sing. Find out about the many great Ali documentaries and why you should avoid the Will Smith-starred biopic. Also, a 6-year-old comedian makes for an adorable hack on America's Got Talent, Melissa McCarthy's The Boss is one of the worst movies of the year, and find out the one cheap piece of tech that will make your podcast listening that much better. Plus, as predicted, the Chewbacca mask mom cashes in, the new Top Gear gets reviewed, Mama June hits the strip club circuit, and the not only the best fighter ever, but one of the worst died, too – RIP Kimbo Slice. Hear about his  last fight – probably the worst MMA fight of all time.
[display_podcast]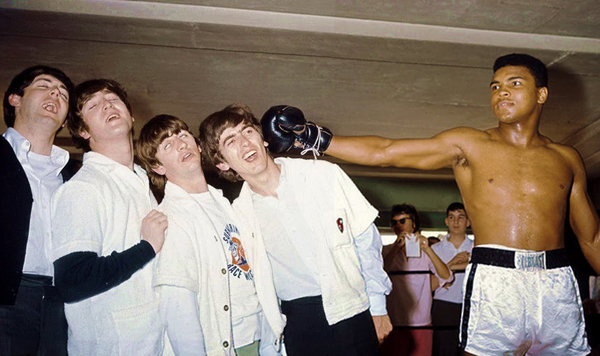 The Greatest gives a punch to, erm, the greatest in 1964
Part two of Joel and Corey's 2012 recap shows brings you the guys' choices for the best and worst shows of 2012. While there's some overlap with what they liked last year, there's a whole new crop of stuff to hate – hillbillies! – and their agreement on this year's lists was shocking even to them. Exhibit A: the best show of the year was unanimous, and even that show has its haters among the general public. But listen on as the guys pick the premium cable powerhouses, reality stupidity, documentaries and animated shows that kept their cable bills as bloated as their waistlines in 2012. Also, find out what channel Joel wants completely removed from our line-ups and which HBO show Corey would like to see under water. Plus, Joel finally comes around on Top Gear, Corey still has love for Mad Men, and how Shark Tank can increase its ratings by replacing the 55-year-old woman with the 40-year-old one.
[display_podcast]
Some of the best and worst images from the best and worst of TV for 2012