Posts tagged
Jennifer Lawrence
While not a weird Oreo flavor or a wacky Jones Soda variety, Little Caesar's introducing a pretzel crust pizza seemed like a good thing to investigate. Turns out this delicious food mash-up is better as idea than a real-world dinner item as neither Joel nor Corey really enjoyed the thing that much. Find out which standard pizza ingredient was left out, what it was replaced for and why kosher salt should be banned from pizzas from this point forward. Spend the time listening to this show rather than the $7 it cost for the pizza because, in the end – they're both a waste! Also, the guys crack the case of the leaked celebrity nudes. Find out which ones are real, which are fake and why Jennifer Lawrence and Kate Upton claiming to be victims is laughable. Plus, a review of the Oddball Comedy Festival in Detroit, including a famous comic who, while short of bombing, did not do well. All this, and Joel appears in another movie (this time on Netflix), Houdini gets a miniseries, and Saved By The Bell gets an awful, cringe-worthy TV movie that Corey was forced to watch.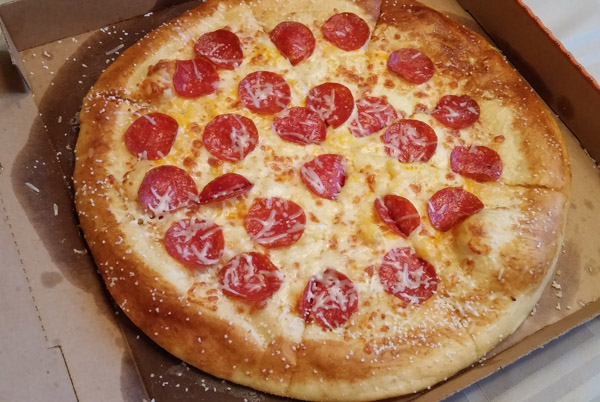 The actual pie that was half-consumed by Corey and Joel. They should have eaten the box.
With apologies for the last show (even though some of you enjoyed it), Joel and Corey Hall return. Speaking of crap, Corey gives an in-depth review/hatefuck to John Carter – a new film that proves that 100 years is too long for fans to wait for a film adaptation. Also, Joel dislikes some recent home video releases including one of Corey's faves from 2011. It's not all bad though, as the guys both love Jeff, Who Lives at Home, a film that cost less than one CGI Martian from John Carter, and is showing in about 1/10th of the theaters – thanks, Hollywood! Also, Joel deletes annoying Facebook friends while Corey doesn't have the stones, our fans hate Harry Artin, and the slow death of stand-up comedy in Detroit. Plus, the prospects of The Hunger Games being a hit seem as high as Jennifer Lawrence's tits.
Hit the "play" button below to listen or right click the "Download" link below and save the file
[display_podcast]