Posts tagged
SNL
They say "If you can remember the '80s, you weren't there". Actually, they say that about the '60s. No matter, as guest John Tenney remembers the '80s and tried to bring back some of that feeling to a recently middle school dance where he was the DJ. As you'll hear, John's choice of '80s dance-floor filler flopped with the kids – but the teachers loved it! Hear Joel, John and Corey's memories of the dances of their youth and hear the songs to which the podcasting stars of the future would touch their first tits. Also, Bruce Springsteen tells dirty jokes for charity and he might have been drunk! Listen for yourself and decide. Plus, Corey hangs with Gilbert Gottfried and talks SNL (of the 80s!), Panda cookies are delicious, The Hobbit should go back in his hole, and much much more on this fun, nostalgic episode of Joel Radio.
[display_podcast]
'
You can totally picture John Tenney in this scene, can't you? No? Then go listen to Bruce tell jokes (below)
The three most disgusting things on this show are not Joel, Corey and guest comedian Sal Demilio. It's either General Mills' retro repacking of the "Monster" cereals – Frute Brute, Boo Berry and Yummy Mummy, or Shaquille O"Neal's new Soda Shaq creme sodas. Actually Shaq's stuff is probably better on its own than the cereal, and we're not saying that just 'cause Sal's part of the company. Listen as the guys try all combinations and permutations of sweet sodas and sugary cereals as they discuss how to make it in the minor leagues of comedy, how to bet on the NFL and Corey's recent culinary tour of New England. Corey claims the "foodie" aspect of his vacation was happenstance, but never let the facts get in the way of a good Facebook post of a plate of clams. Also, a documentary round-up with something for Beatles fans, the late great Levon Helm, an excellent magic doc you can watch for free, and another of an icon past. Plus, which streaming service is the best, breakfast around the world compared and the new SNL cast is the same as every other SNL cast.
[display_podcast]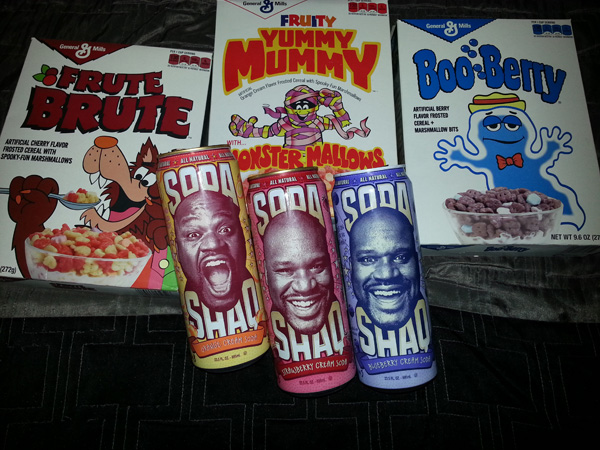 So sugary, even this picture is in bad taste
If going to the gym wasn't hard enough wasn't hard enough, the bad music played there, makes it doubly tough drop the pounds. That's the premise laid out by Corey. That discussion – about having to listen to "Neutron Dance" while on a treadmill – starts a discussion about mass media, ironic metal fans, when Happy Days started to suck, and whether the Big Ragoo actually nailed Shirley. The guys break down the failure of popular culture and how a the rise of various sub-cultures have made '90s angst irrelevant and a little embarrassing. Also, Eastbound and Down returns – Joel loves it but says a new HBO show misses, Ricky Gervais puppets a midget, a brief Oscar preview and why real Navy SEALs make real bad actors. Plus, a memo to SNL – real celebrity + impersonator = lazy, shitty comedy.
Hit the "play" button below to listen or right click the "Download" link below and save the file
[display_podcast]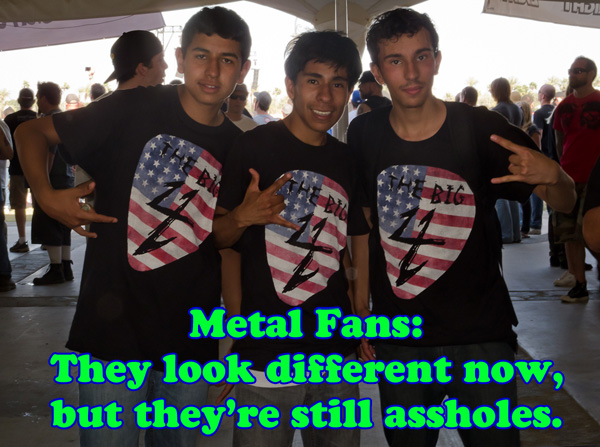 The above image pretty much sums it up.