Joel Radio #114: Three Gross Tastes That Taste Gross Together
The three most disgusting things on this show are not Joel, Corey and guest comedian Sal Demilio. It's either General Mills' retro repacking of the "Monster" cereals – Frute Brute, Boo Berry and Yummy Mummy, or Shaquille O"Neal's new Soda Shaq creme sodas. Actually Shaq's stuff is probably better on its own than the cereal, and we're not saying that just 'cause Sal's part of the company. Listen as the guys try all combinations and permutations of sweet sodas and sugary cereals as they discuss how to make it in the minor leagues of comedy, how to bet on the NFL and Corey's recent culinary tour of New England. Corey claims the "foodie" aspect of his vacation was happenstance, but never let the facts get in the way of a good Facebook post of a plate of clams. Also, a documentary round-up with something for Beatles fans, the late great Levon Helm, an excellent magic doc you can watch for free, and another of an icon past. Plus, which streaming service is the best, breakfast around the world compared and the new SNL cast is the same as every other SNL cast.
[display_podcast]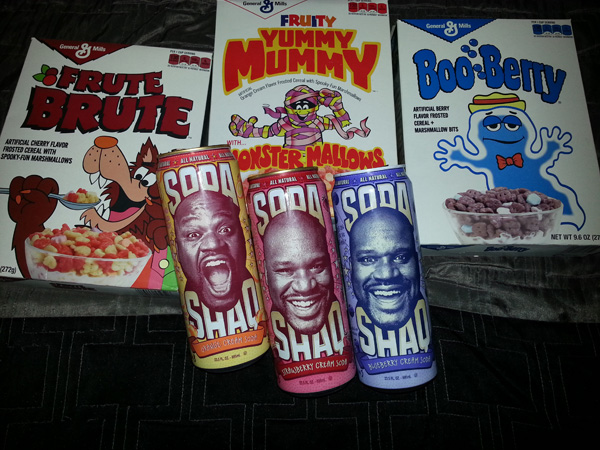 So sugary, even this picture is in bad taste
No comments yet.
No trackbacks yet.
about 5 years ago - No comments
Two titans of comedy dies this past week. Comedian/activist Dick Gregory dies Saturday and nightclub, movie and telethon star Jerry Lewis died less than twenty-four hours later. Joel and Corey Hall remember the legends including Jerry's last dicky interview, his awful failed talk show, and his bizarre thoughts on the world in 2017. Joel met…