Joel Radio #137: Live From The Lumber Aisle
Comedians are always looking for the next big score, and when they can't get it from comedy they do something else. Like old friend Bill Hildebrandt, who's a partner in a new invention by comedians that's hoping to make the bedroom more fun. It's nothing dirty, actually, but the Aussome TV Mount is an idea that might actually work. Bill discusses that challenges of being an inventor, the hopes he has for the device and pitches to Joel Radio's own Shark Tank – Joel and Corey Hall – but will he get any bites? Also, The guys reminisce about hell gigs, including the most infamous one ever; photos of which were recently uncovered over 10 years later. Plus, Joel gets teased for painting a cow, the history of the "hands" bit, reviews of Gone Girl, The Equalizer, Selfie, Red Oaks and a new can't-miss documentary on Netflix – Print The Legend.
[display_podcast]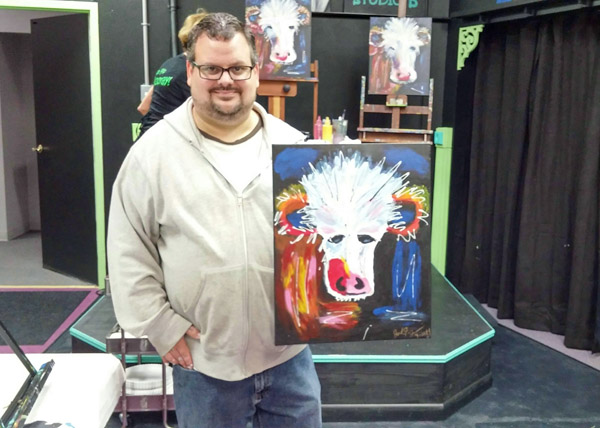 While it hardly looks like the instructor's cow, Joel did this all with his finger
No trackbacks yet.
about 2 years ago - 2 comments
It is with a very heavy heart that Joel says goodbye to his mentor, friend and "Comedy Dad", Bill Hildebrandt who passed recently. Joel tries to avoid crying (and fails!) by inviting some of Bill's good friends, comedians Derek Richards and Kevin Kramis on the show. Joel and Derek talk Bill's time playing in Vegas,…