Joel Radio #239: Direct From The Chuckle Dungeon
Joel explains why there was no podcasts for the last month. Turns out the surgery he forgot to disclose was way harder for him to recover from than he thought. Hear Joel's tale of woe, the complications he's suffered, how the anesthesia nurse was comedy club stage jumper, and all the embarrassing details on this show. Joel is joined by comedians Corey Hall and Bill Hildebrandt this week and hot topic of non-comedians being booked at comedy clubs is discussed. Is it smart business or an insult to our "art"? Should an unknown, but really funny comedian get bookings over a humorless celeb like Dustin Diamond or Ron Jeremy? The guys discuss the unfunny celebrities they've worked with and why it's not always the worst decision to use them. Plus, Corey likes Dumbo more than Us, Captain Marvel isn't that marvelous, Joel thinks Ricky Gervias is great again on After Life, and America's new past-time – watching Finding Neverland and arguing with those who have never see it.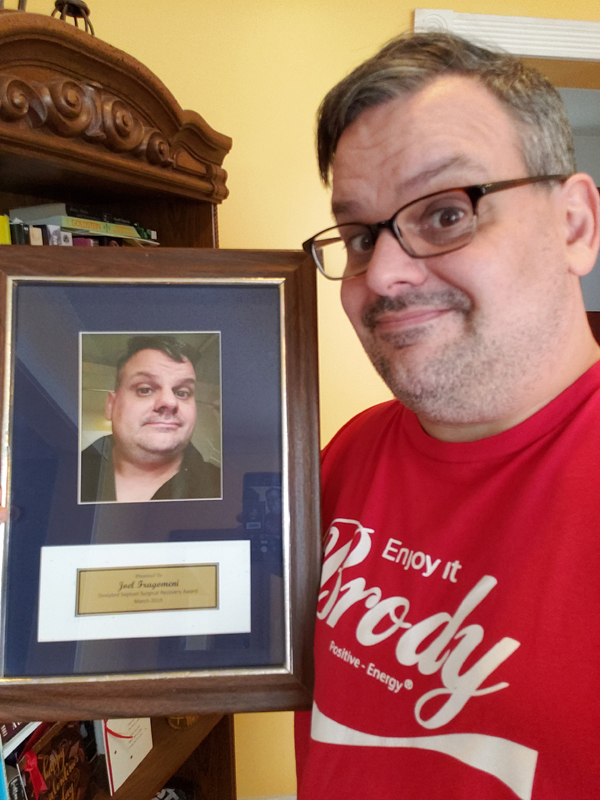 Joel proudly accepts his gag award for surviving surgery and thanks the Joel Radio listeners
No comments yet.
No trackbacks yet.
about 2 years ago - 2 comments
It is with a very heavy heart that Joel says goodbye to his mentor, friend and "Comedy Dad", Bill Hildebrandt who passed recently. Joel tries to avoid crying (and fails!) by inviting some of Bill's good friends, comedians Derek Richards and Kevin Kramis on the show. Joel and Derek talk Bill's time playing in Vegas,…