Joel Radio #189: Movie Mania 2017
After the debacle that was the 2017 Oscars, Joel does his annual movie review show telling you all the best films of 2016 that you might have missed and which Oscar picks were just plain wrong. He is joined in this by movie critic-at-large Corey Hall, who returns to the show for the first time in months. Corey liked Jimmy Kimmel's performance as the host of the Oscars, but wasn't surprised by the fossilized Warren Beatty's screw-up. Joel is more offended by Moonlight winning best Picture as he thought it was the worst of the nominated films. Hear both guys' list of best movies of the year and the worst of the year, too – now with more Melissa McCarthy! Plus, Crashing gets comedy right on HBO, and Comedy Central's Detroiters gets the references right, but the comedy wrong.
[display_podcast]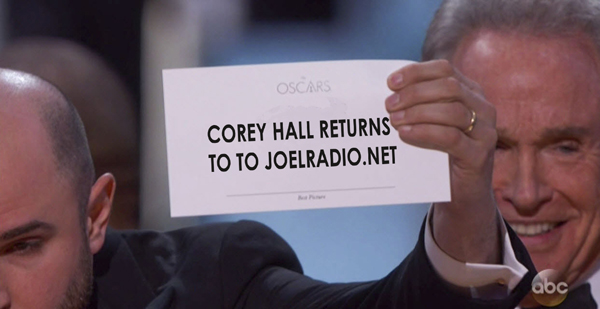 The Oscars isn't the only show with a big surprise
No comments yet.
No trackbacks yet.
about 2 years ago - No comments
The annual massive Movie Mania show consisting of Joel's best movies of the year, the worst movies of the year, Oscar predictions and more is here! Joel is joined once again by Jason Fylan-Mares (or is it Jason FM?), and the guys have included a symbolic chair for the late, great Corey Hall to join…