Posts tagged
Jimmy Kimmel
Joel and Corey Hall discuss the funniest comics off-stage, which is not something a lot of people consider when it comes to comedy success. The guys talk the best "hangs" in comedy and the superstar they'd rather see interviewed than actually performing stand-up. This also plays in to a recent high-profile fight a recent friend of the show was in and why being funny off-stage will always give you an edge. Back onstage, Joel confesses to using notesfor a recent set, while Corey went and rocked a small town bowling alley – it's a living. Also, The Oscars have happened as predicted. The guys rundown the show, why it's not as popular as it used to be, how Jimmy Kimmel fared as host, and why the red carpet really isn't relevant anymore. Plus, Corey sees Black Panther and says more minority super heroes are inbound, both guys liked Game Night, and Derren Brown debuts on Netflix in spectacular fashion with The Push.
[display_podcast]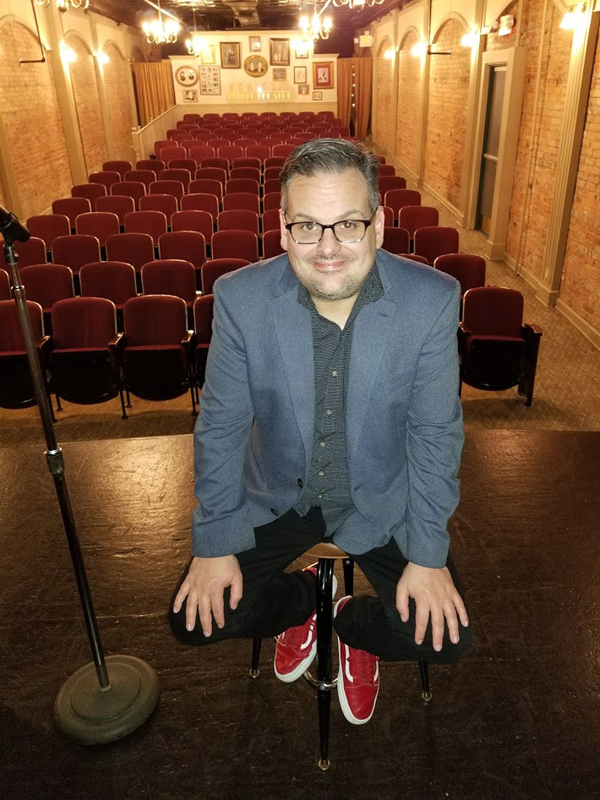 Joel poses before the show, sitting where his notes would soon rest
After the debacle that was the 2017 Oscars, Joel does his annual movie review show telling you all the best films of 2016 that you might have missed and which Oscar picks were just plain wrong. He is joined in this by movie critic-at-large Corey Hall, who returns to the show for the first time in months. Corey liked Jimmy Kimmel's performance as the host of the Oscars, but wasn't surprised by the fossilized Warren Beatty's screw-up. Joel is more offended by Moonlight winning best Picture as he thought it was the worst of the nominated films. Hear both guys' list of best movies of the year and the worst of the year, too – now with more Melissa McCarthy! Plus, Crashing gets comedy right on HBO, and Comedy Central's Detroiters gets the references right, but the comedy wrong.
[display_podcast]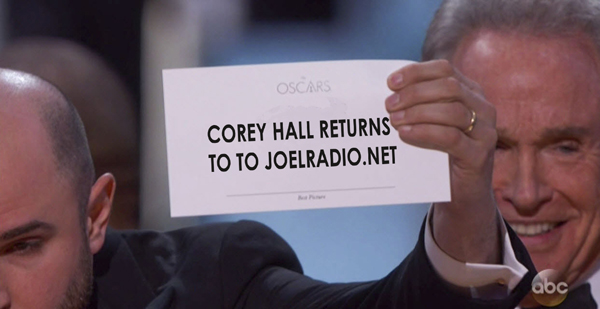 The Oscars isn't the only show with a big surprise
Jay Leno finally decided to do his first "sit down" interview about the late night debacle. And even though Oprah Winfrey was chosen as the host for said interview, Corey Hall found the event worthy enough to sit in on the playback. Listen as Jay weasels his way around various question concerning Conan's ratings, Jimmy Kimmel's insults, and how he loves the make-up guys. If you thought Jay was a douche before, just listen to this! Also, Joel and Corey have the full re-cap of Conan's last week, and why Jay's show may never be the same. Plus, Joel's memories of attending Conan's show, The iPad debuts to a collective shrug, and the biggest bombs in TV history dissected. It's a fun, fast, 90-minute must-listen show. Enjoy!
Right click here to download – 93 minutes, 42 megs
OR press the play button below and listen right now:




Corey pays his tribute to the genius of Jay Leno