Posts tagged
Derek Richards
Joel checks in during the pandemic to interview journalist Steve Miller about coronavirus, America's response to the crisis and taking guesses at when it all might end. Steve's also been doing a bunch of reporting on a sensational Florida murder-for-hire case, but he still hasn't seen Tiger King. Also, comedian Derek Richards checks in from Las Vegas on the state of Vegas, and why comics might actually get a raise out of unemployment. Plus, Joel's quarantine-mate Layla check in on how they're staying sane and all the stuff they've been watching like McMillions, Tiger King, The Office, Girls, and so much more. You'll also hear Layla describe giving her first haircut, which might a true-crime case in the future.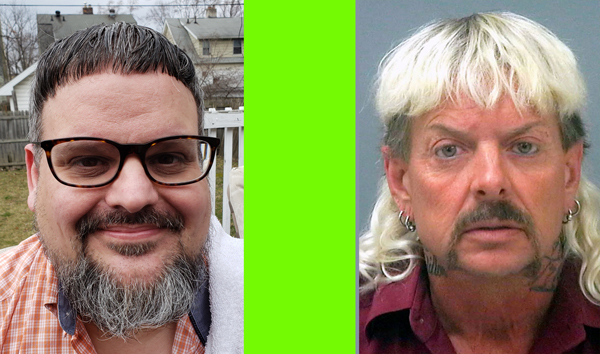 Which is worst? Joel's quarantine haircut or Joe Exotic's mullet?
Joel Radio welcomes back comedian Derek Richards who was recently mentioned by Joel as one of the funniest comedians offstage. He lives up to that billing on this show, sharing hilarious road stories, tales of really bad gigs, descriptions of life in Florida and Las Vegas and much more. Corey Hall had some bad gigs too, including some small-town excuses for low turnout that you won't believe. It's been almost thirteen years since Derek joined us on the show, and it was long overdue! Also, the guys review The Zen Diaries of Garry Shandling on HBO, a overly-long, but wonderful portrait of a comedic genius. Plus, HBO's Barry is worth a look, Joel and Corey drop some quarters into Ready Player One, Corey goes to the Isle of Dogs and much more stupidity.
[display_podcast]
This a composite photo, as Derek may not be that happy to see the smelt
It's comedy road stories galore with guest comic Derek Richards. You'll hear about crappy hotel rooms, unfaithful superstars and audience fist fights. There's nothing politcally correct here, as the guys' inapproprite comments about asians and the disabled put them in harm's way. Corey even finds cartoons racist. Plus there's talk of the sorry state of Florida, Ebert and Roeper, Latino comics and Corey's potential for really good Pistons tickets.
Right click here to download – 80 minutes, 34 megs


Derek's CD and publicity photo. Remember to take an in-studio shot, Joel!