Posts tagged
The Office
Joel checks in during the pandemic to interview journalist Steve Miller about coronavirus, America's response to the crisis and taking guesses at when it all might end. Steve's also been doing a bunch of reporting on a sensational Florida murder-for-hire case, but he still hasn't seen Tiger King. Also, comedian Derek Richards checks in from Las Vegas on the state of Vegas, and why comics might actually get a raise out of unemployment. Plus, Joel's quarantine-mate Layla check in on how they're staying sane and all the stuff they've been watching like McMillions, Tiger King, The Office, Girls, and so much more. You'll also hear Layla describe giving her first haircut, which might a true-crime case in the future.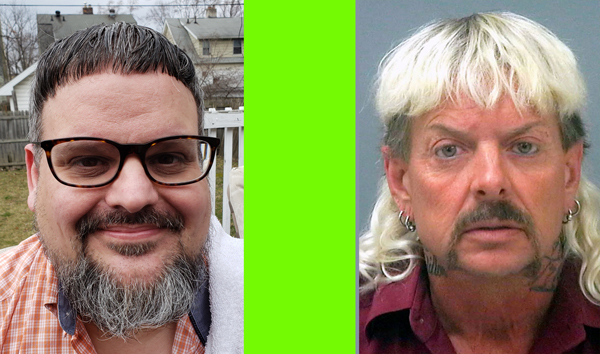 Which is worst? Joel's quarantine haircut or Joe Exotic's mullet?
The title is not indicative of the quality of this show! Oh no, that's a reference to the length of the recent comedy hit Bridesmaids, which at 126 minutes is way too long – funny or not (and it is!). This brings up the point of comedies being too long in general – thanks Mr. Apatow! Joined in this extended faux-radio show is frequent guest, John Tenney, of soon-to-be basic cable fame, and Corey Hall of, well, this show. Plus, The Macho Man is dead, but his insanity lives on, The Office is gone for the season and Corey is gone as a fan, and John lives a dream by working the comic book convention. Also, Corey sees The Hangover Part II. It sucks, apparently, but so does every comedy sequel – we think.
Hit the "play" button below to listen or right click the "Download" link below and save the file
[display_podcast]
It was recently Record Store Day. No, keep reading, I promise it won't be THAT boring. Anyway, Corey recently shopped one of the last remaining indie record shops in Detroit and came away both satisfied and sad about that industry's decline. That leads Joel to ponder the future of technology, get nostalgic about the beginnings of podcasting, and actually be optimistic about where everything is going. For example, Joel recently checked out online music service MOG, and found it, with a few reservations, to be compelling. Listen for a LIVE Android demo! Also, a big TV rundown with Joel taking in AMC's The Killing and HBO's Game of Thrones, while Corey revels his hopes and fears for the end of Steve Carrell's run on The Office. Plus, Corey gives the history of comic books, Joel takes a trip through Portal 2, and BioWare rules – Bethesda sucks.
Hit the "play" button below to listen or right click the "Download" link below and save the file
[display_podcast]