Posts tagged
Ed Sheeran
Joel Radio welcomes comedian Ted Moss back to the podcast. Ted was previously heard on his Broke N' Road Comedy Tour and he's back to discuss the successes and failures of that tour, what the comedy scene is like in other towns, what it's like to sleep in an RV with another guy and more nonsense. The guys discuss comedy classes becoming real-life arguments, Joel's guitar inspiration, and what happened when Ted tried to give Joel a "free" piano. Ted's a nut and he can bullshit with the best of them – he's perfect for this show. Also, Joel talks about seeing Ed Sheeran in concert, but he doesn't talk as much as Ed did at the concert. How much chatter is too much? Hear Joel's Springsteen impression for a comparison. Plus, Burt Reynolds dies and leaves a legacy of beer, blondes and sports cars, John Mayer gets spotted in Chicago,  Jack Ryan is more entertaining, implausible Tom Clancy bullshit , but Joel will tell you when his BS became real. And a movie review of A Simple Favor – shoulda been called "Gone (Again) Girl".
[display_podcast]
Yes, Ariel Winter, old Burt Reynolds skeeves us out, too
The summer movie season is in full swing and Joel and Corey Hall have checked out some of the latest offerings including Christopher Nolan's WWII drama Dunkirk. Trying to figure out the best format to watch the thing in was more confusing than Nolan's Inception, but ultimately the guys drove a little farther for a "premium" experience and have their full report on the film itself and the best way to see it. Is this as good as everyone says? Listen and find out. Also, the latest Spider-Man movie is insane with the in-jokes and references. Joel thinks it's distracting from the experience overall while Corey just can't wait for Spidey to graduate from high School. Plus, Joel returns to the Planet of the Apes and has a full review of that new film, Corey says The House needs a makeover, and Ed Sheeran joins Game of Thrones – ruining the verisimilitude of a show that has a topless woman commanding dragons.
[display_podcast]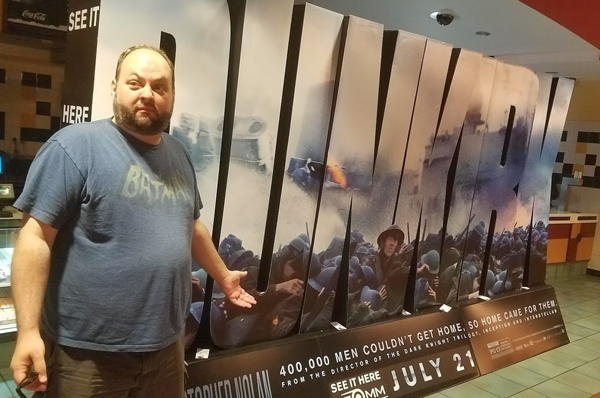 Corey takes Batman to the beaches of France at Dunkirk