Posts tagged
Burt Reynolds
Joel Radio welcomes comedian Ted Moss back to the podcast. Ted was previously heard on his Broke N' Road Comedy Tour and he's back to discuss the successes and failures of that tour, what the comedy scene is like in other towns, what it's like to sleep in an RV with another guy and more nonsense. The guys discuss comedy classes becoming real-life arguments, Joel's guitar inspiration, and what happened when Ted tried to give Joel a "free" piano. Ted's a nut and he can bullshit with the best of them – he's perfect for this show. Also, Joel talks about seeing Ed Sheeran in concert, but he doesn't talk as much as Ed did at the concert. How much chatter is too much? Hear Joel's Springsteen impression for a comparison. Plus, Burt Reynolds dies and leaves a legacy of beer, blondes and sports cars, John Mayer gets spotted in Chicago,  Jack Ryan is more entertaining, implausible Tom Clancy bullshit , but Joel will tell you when his BS became real. And a movie review of A Simple Favor – shoulda been called "Gone (Again) Girl".
[display_podcast]
Yes, Ariel Winter, old Burt Reynolds skeeves us out, too
With last week's announcement of a Cannonball Run reboot, Joel has made it his goal to re-cast the reboot, making a giant list of potential new-millennium stars to be the teams racing cross-country. This includes some modern-day comedy teams and other stars across all demographics, including who would play Burt Reynolds' son in the film – a knockout sure-fire pick that should get Joel hired by the film any day now. Corey Hall has some good ideas too, including the hilarious suggestion of a team driving a dumptruck. You gotta listen to find out who! The guys are joined in all this merriment by frequent guest, John Tenney who shares his behind-the-scenes stories from Batman v Superman: Dawn of Justice on which he worked as an extra. You'll also get a spoiler-filled review of the film from all three hosts, but don't worry, it's at the end of the show. Also, a look back at comedy great Garry Shandling, the "Cousin Oliver Syndrome" on TV shows explained, and find out which nostalgia act has Tenney jonesing for a summer concert. Plus, old funny fat man Jon Lovitz gets a hot young girlfriend so there's hope for all of us – unless it's a joke, and it looks like it is.
[display_podcast]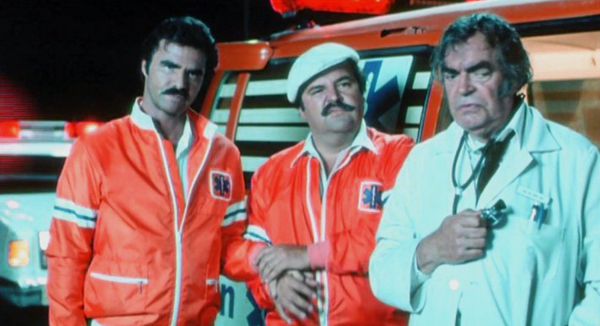 Joel, Corey and Tenney would gladly take over these roles in the reboot of Cannonball Run