Posts tagged
George Lucas
Joel Radio is the first(?) podcast to have a complete review of Star Wars: The Force Awakens. In fact, it's so complete it's almost as long as the movie! Don't worry – there are NO SPOILERS – for 20 minutes anyway, and then there's a METRIC TON OF SPOILERS after that, so maybe listen to a little before and the rest after seeing the movie. Joel and Corey Hall compare the actual film to last show's hopes about it, break down what works and what doesn't, describe the nerdy scene at the theater, and generally whoop and holler about all things Star Wars in a post-George Lucas universe. Also, find out the characters that don't work at all and why one character's weight gain is especially hilarious – it's not who you think! Whether you loved or hated the movie, there's something for you on this show,  and its eventual sequels.
[display_podcast]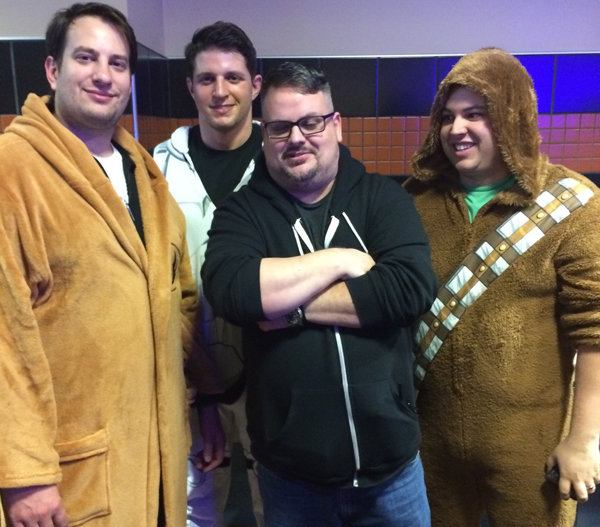 Joel can't bear the sight of the nerds in the Star Wars line – and we're pretty sure that's just a bathrobe 
As the guys prepare for their big shot on CBS Radio, it's also a big week due to the Fantasy Football draft. Who won and who got hosed? Who's internet crapped out? Also, If there was a heaven, would you really want to go there? What do you look like in heaven, you at your most young and virile or at the time of your death? How did George Lucas get this wrong? Plus, the worst most embarrassing ways to lose a girlfriend, chicks love Harry Potter, and Corey and Joel's dads prepare for radio fame.
Right click here to download – 79 minutes, 36 megs
We're back!! After a brief hiatus the show returns to ball busting glory, with an episode about weddings, weddings and more weddings. We ask the tough questions, like: does anybody really get laid at a wedding? Should the bride wear beige? Is the stupid DJ overpaid? Other highlights include: Cheap comedy merchandise, the mess that is "Hotlanta", Comic book conventions, vintage porn, George Lucas's beard and other Star Wars crap.


Right click here to download – 77 minutes, 32 megs