Posts tagged
Rogue One
It's the return of Corey Hall to cover a wide range of subjects like the deaths of Don Rickles, Jonathan Demme, and Erin Moran, the ongoing scandals at Fox News (including a former guest of this show), and lots more. Joel explains why he's not participating in the Facebook "Bands I've Seen" game, runs down some comedy shows he's performed at recently and explains why he's "breaking up" with his celebrity crush because he now has another. Also, Corey on the new MST3K, Marvel and Walking Dead have worn out their welcome, Joel takes another look at Rogue One, The Handmaid's Tale on Hulu is OK, but you've seen that before, and HBO's Crashing nails the comedy stuff but misses with everything else. Plus, a complete guide to seeing quirky comedy actresses naked.
[display_podcast]
Actress Briga Heelan will be watched weekly by Joel on NBC's Great News. Bad news is the show sucks
Another year, another Star Wars movie – oh wait – that's never happened until now, with the release of of Rogue One: A Star Wars Story. Joel, comedian Josh Bowab, and comedienne Ellen Stachowicz (a girl with such nerd cred she's even written Star Wars fan-fiction) attended an opening night screening and sat down to do an immediate review. If you haven't seen it, it is spoiler-free for the first 20 minutes or so, just finish listening after you see it. And you should see it, as it's a very good, WWII-style action movie ala Bridge on The River Kwai. The guys discuss the fan-service cameos, the gritty, more realistic violence and if certain digital effects enhance or detract from the movie. We also hear how the screening was ruined by too much air-conditioning, and how Ellen managed to miss the first few minutes. Plus, hear how this film compares to The Force Awakens, their hopes for the future Star Wars films, and the wild theories about the true identity of Supreme Leader Snoke and if this movie sheds any light on it, and what the hell happened to Darth Vader's voice?
[display_podcast]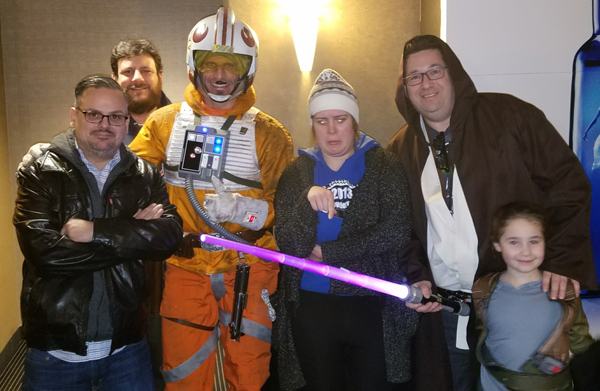 Joel, Josh, and Ellen – blinded by the lightsaber – meet some super fans after the movie