Posts tagged
Steve Harvey
The joyful art of stand-up comedy had yet another controversy this week as Iliza Shlesinger outraged both comedians and comedy fans with some pointed opinions in a recent interview. Were Iliza's comments about female comedians off-base or was there some merit to her statements about originality and audience's expectations? Should you really be proud of a World War II joke? Joel investigates with the help of Corey Hall and the returning Ted Moss. Ted is a fan of Iliza's and thinks she's getting a bad rap. Joel thinks she's talented but also shares his experience working with Iliza a few years back and is not surprised that this happened at all. The guys discuss advantages and pitfalls of being a hot chick in comedy, and why the most important thing is show business is to be easy to work with. Also, I'm Dying Up Here on Showtime continues to get it wrong, a second look at La La Land, doing a podcast with the power out, and a review of Saving Banksy on Netflix. Plus, Corey has seen the latest Steve Harvey abomination. Piece of advice: when you're in the Funderdome, don't look him in the eye.
[display_podcast]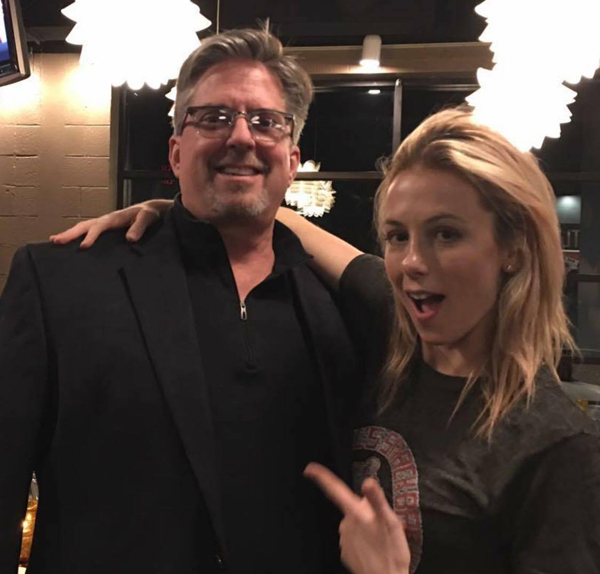 Ted Moss and Iliza Shlesinger in happier times (photograph by Joel!)
Steve Jobs is dead. But that's not the big news! Family Feud has gone black! Can it go back? We kid here at Joel Radio, but since instilling the very funny Steve Harvey as host, the guys can't help think that something is different. Maybe it's the questions about what to do 'bout your "cheatin' man"? Where are they surveying these people? Joel and Corey Hall get to the bottom of a burning question the mainstream media has ignored. And yeah, Steve's dead. Maybe Joel will buy an Apple product now? Probably not. Also, the new TV season is in full-swing. Hear the guys' shocking picks for best and worst of the new series, and find out what's already been cancelled. Plus, Joel's two suggestions for the worst music ever made, no love for Arrested Development, and Hank Williams Jr. can go fuck himself.
Hit the "play" button below to listen or right click the "Download" link below and save the file
[display_podcast]