Posts tagged
La La Land
The joyful art of stand-up comedy had yet another controversy this week as Iliza Shlesinger outraged both comedians and comedy fans with some pointed opinions in a recent interview. Were Iliza's comments about female comedians off-base or was there some merit to her statements about originality and audience's expectations? Should you really be proud of a World War II joke? Joel investigates with the help of Corey Hall and the returning Ted Moss. Ted is a fan of Iliza's and thinks she's getting a bad rap. Joel thinks she's talented but also shares his experience working with Iliza a few years back and is not surprised that this happened at all. The guys discuss advantages and pitfalls of being a hot chick in comedy, and why the most important thing is show business is to be easy to work with. Also, I'm Dying Up Here on Showtime continues to get it wrong, a second look at La La Land, doing a podcast with the power out, and a review of Saving Banksy on Netflix. Plus, Corey has seen the latest Steve Harvey abomination. Piece of advice: when you're in the Funderdome, don't look him in the eye.
[display_podcast]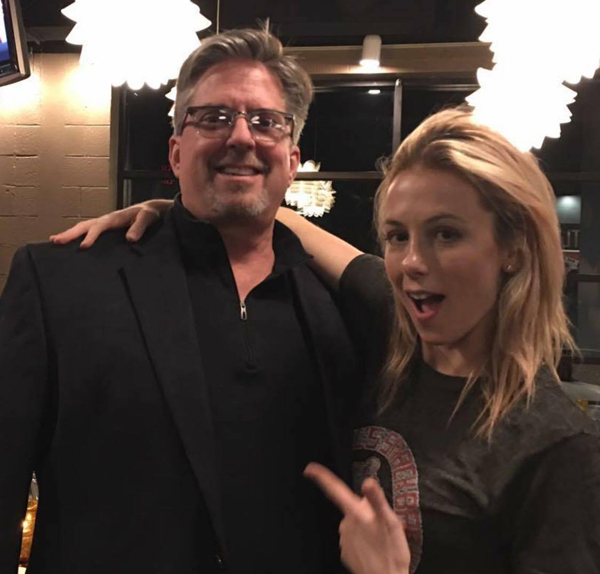 Ted Moss and Iliza Shlesinger in happier times (photograph by Joel!)
Joel welcomes "young" comedian, radio DJ and good guy Ed Hunter to the podcast. Ed and Joel have known each other for a while, but Ed's role in a major American historical event – the funeral of President John F. Kennedy is fascinating. Ed shares his story of being a precocious child and writing to the Army bugler that flubbed the playing of "Taps" at Arlington National Cemetery. That letter would become a memento of that sad occasion that would find Ed his fifteen minutes of fame some fifty years later. It's an amazing, uplifting story that is in stark contrast to the divisiveness in Washington today. Speaking of Washington, Judd Apatow has some wise and funny observations about Trump, the internet and the election that Joel found enlightening. Also, feedback to the last few podcasts, Joel says Jackie is a good watch for JFK history fans, and the terrifying Oscar-worthy PBS documentary Command and Control can be seen right now. Plus, La La Land and Lion are really good, the Carrie Fisher/Debbie Reynolds documentary is weird, and the new OJ documentary is OK, but last years OJ stuff was so, so much better.
[display_podcast]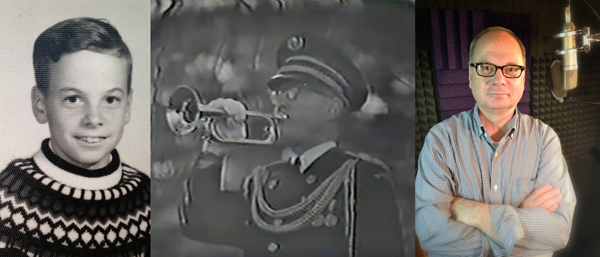 The young Ed Hunter, Army bugler Keith Clark, and Ed today (in much nicer studio than Joel's)