Posts tagged
Stranger Things
This podcast had an orderly way of proceeding that was planned and prepared by Joel for your listening pleasure. Then Corey Hall decided to take a trip down podcasting memory lane and it went all wrong. The guys discuss the "old days" of podcasting in 2005, why some guys were more successful than others and Corey's ideas for monetizing this show. Would you donate $5 to get some exclusive stuff from the guys? Let us know in the comments. Also, Joel went to an open mike with a decibel meter installed and it was a riot. How loud is not funny? Apparently any volume that night. Plus, gift shopping for Gilbert Gottfried, Corey eats an impossible burrito, Mad Magazine says goodbye, reviews of Stranger Things, Spider-Man: Far From Home, Aladdin, Euphoria on HBO and a full rundown of the Beatles-infused, sci-fi romance Yesterday. Includes a two-minute spoilercast ending, too!
Hollywood has been rocked by sexual indiscretion this past week and Joel and Corey Hall attempt to make some sense of the whole thing. It's a difficult and not-easy-to-be-funny-about topic but as Harvey Weinstein, Louis CK, Charlie Sheen, Kevin Spacey and others lose their places in show business, the guys try to find a common denominator and agree that not all sexual misconduct is created equal. Joel tells you why he knew most of these stories before and which celebrities might be getting in trouble in the future. Apologies for the heady subject matter – the Louis story broke while the show was being recorded! Also, Larry David: bad comic, bad taste, or both? Plus, Joel thinks the new Thor is good, mostly due to the director, Stranger Things returns and the debate about binge-watching vs watching once a week, George Clooney's movie is a mess, Ric Flair's documentary is worth a look, and Joel gets all the new video games.
[display_podcast]
Harvey Weinstein's wet dream – if you don't get it, listen to the episode!
Corey Hall returns on this show, which is good for two reasons: one, it's Corey and two, it's not Harry again. Joel explains the last show and why it's not available anymore on the site, and how he hopes that won't be the case permanently, even though this was the case one other time. This current show, though has Joel and Corey playing along with the new Match Game, even though it's not it's cracked up to be. The guys listen to a lot of bad questions and worse answers and they investigate why modern TV can't do game shows as good as they used to. Also, Stranger Things gets a full review (and breakdown of influences) from Joel, Corey enjoyed but can't remember the new Star Trek, and neither one of them has Olympic fever, but Corey will still watch some Judo – if they'll show it. Plus, more on the great Vice Principals, the difference between an enthusiast book and a mass-market one, and why Hollywood's wacky beauty standards have made girls that Joel and Corey would kill for the "ugly friend".
[display_podcast]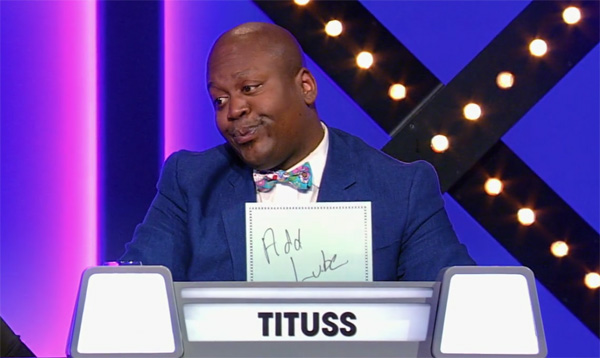 This is a terrible answer but very good advice in case you want to enjoy the new Match Game