Posts tagged
Bill Cosby
Joel and Corey are fired up after watching the Buffalo Bills destroy the New York Jets at Ford Field in Detroit. They have a lot to say about the game, which was collection of guys that aren't popular in Detroit, including two former coaches who nobody likes now. Hear about the guys' exploits at the stadium, as football is more fun when the tickets are free and you don't care at all about the result.  Also, a full breakdown of the allegations against Bill Cosby. Why a famous, powerful man resorts to drugging women, and why what he is accused of is absolutely 100% a crime. Plus, Last Comic Standing is canceled (again), goodbye to Mike Nichols and Tom Magliozzi, Corey streams some old showson Hulu, Banksy Does New York on HBO, and Sex Tape is (probably) the worst movie of the year. There's also a nuclear fight over an indie movie that Joel loved and Corey despised. Listen to hear why Corey is wrong (It's not fair because I wrote this, but Corey is still wrong – Joel).
[display_podcast]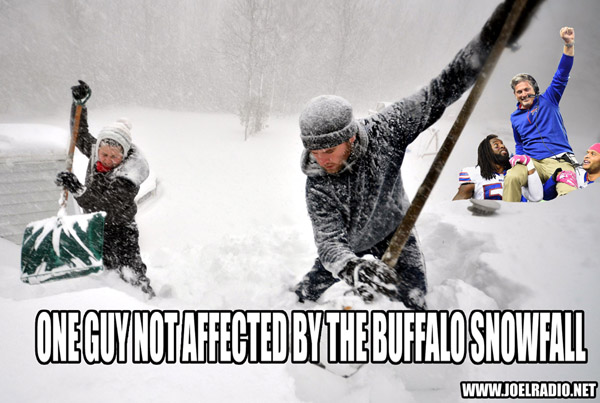 You don't have to be a Detroit football fan to get this, but it helps. Full size version here.
Joel Radio welcomes the return of John Tenney to the show. John talks how crappy science won't stop the hunt for Bigfoot, a entire Thanksgiving dinner of hors d'oeuvres, and the singles scene at local bars – handjobs in the stairwell! Also, Joel's "mystery record" reveals on of rock-roll's greats doing the worst dong ever, the discussion goes to the worst recording ever, with Bill Cosby, James Brown and especially Van Morrison getting nods. The guys roar with laughter as Van the Man improvises tunes about ring worm and Danish, deliberately hysterical for an oh-so serious soul singer. Plus, a fan sends a predictable Xmas present, how you can get Joel and Corey and John to Yellowknife, the Beatles' sons and how they're doing, and how to look like you're not losing your hair.
[display_podcast]
Van says "YOU'VE GOT RING WORM"!!!!!
After a refreshing week off, the guys return to action with a first-time guest, comedian Steve Bills. Steve's not just a comic, he also collects comic books, DVDs, and sells stuff on eBay – a model Corey and Joel fan! Steve details his comic collecting and gives Corey advice on preserving his future riches, meanwhile Corey just wants to read the damn things. Steve also makes a ton of dough selling used DVDs. Not merely selling them, but repackaging, refurbishing and putting them into pseudo-box set collections, but don't look for the complete Ernest collection anytime soon. Also, "The Man" sticks it to Joel's comedy career, Hellboy II gets reviewed, and high school athletic glory revisited.
Right click here to download – 80 minutes, 37 megs
OR press the play button below and listen right now:



Since we had no pictures of Steve Bills, please enjoy this picture of Bill Cosby