Posts tagged
Niagara Falls
Joel Radio returns with news of comedians getting fired, as Michelle Wolf and Joel McHale lost their shows on Netflix. Joel (Fragomeni) explains why basic cable stars don't translate to an on-demand service and why late-night TV died with the loss of Leno and Letterman. Corey Hall thinks Trevor Noah was a bad hire, too and feels like that genre is losing its punch overall. Two comics criticize those richer and more famous than them – what a show! Also, Joel visits Niagara Falls and drives the amazing Niagara Speedway while eating ice cream with white trash of all colors and trying not to get eaten by a tiger at a magic show – what a trip! Plus, Sharp Objects ends and Corey can tell you it sucked without seeing it (it didn't), Magic for Humans is really great, Matt Groening's Disenchantment is better than it should be, and The Package is the dumbest thing ever. RIP Aretha and McCain  – we never met and wouldn't have liked you if we did.
[display_podcast]
America needs to make its Kit Kats great again
Joel returns from a week-long trip to the East Coast, with stops at the Flight 93 Memorial, the Jersey Shore, Providence, Niagara Falls and attending two epic Bruce Springsteen shows in Pittsburgh and Boston. Joel shares his memories of the trip, the challenge of losing weight while on it, and the rigorous travel schedule, but Corey Hall isn't impressed. In fact, that's a theme for the show that Corey isn't impressed with anything Joel likes or cares about. This comes to head as Joel reviews the excellent, insightful CBS investigation of the JonBenet Ramsey killing which Corey mocks as some prurient interest of Joel's and not a genuine review of the show. This disagreement continues from there, and if you're a long-time fan you see where this is going. Also on the show, Joel watches the Corey Feldman musical performance for the first time, the new Beatles doc gets a review, Corey rates son of Zorn and Sully, and a full Emmy review with the winners and losers revealed. Plus, Joel is buying tickets to see Eddie Murphy, journalist Steve Miller recounts his time on Joel Radio, a studio power update, and Branson, Missouri has the best line-up of shows you'll never, ever want to see.
[display_podcast]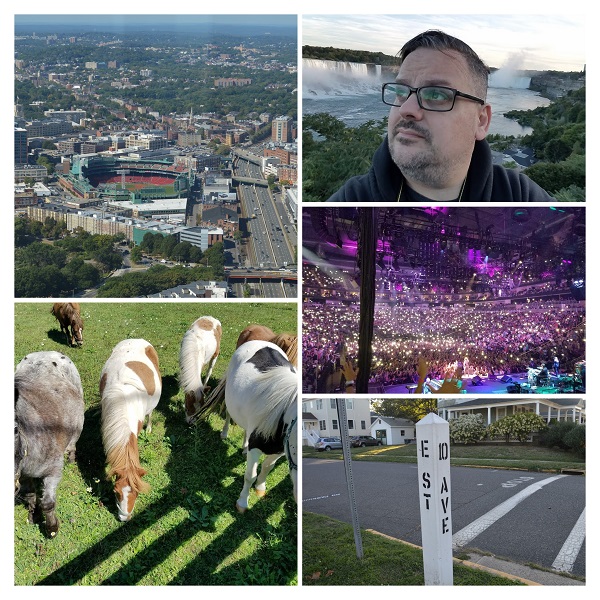 Enjoy this collage of photos from Joel's trip – if you're not Corey