Posts tagged
Nino Brown
It's another live night of satand-up comedy from O'Mara's Irish Pub in Berkley, MI. Joel gets the proceedings going with a new set including his reasoning for why every girl should date him. It takes a long time to get to it, but after jokes about CNN and Oscar Pistorious, Joel's ridiculous premise pays off with big laughs – it's funny 'cause it's true! The laughs keep coming with comedy superstar-to-be Brad Wenzel who's dry and deadpan delivery always works . Also, seasoned veteran Gary George makes a rare flub that is undoubtebly Joel's favorite moment of the night, Heather Kozlakowski gets heckled – but not for her previous relationship with Joel – and Hailey Zureich shares an outlandish way for women not to be kidnapped. Plus, sets from Julie Lyons, Ron Lutze, Jibtron Zero, Ben Langworthy, Loyd Digg, Avery Sommerfeld, and the return of Nino Brown, who is unconvinced that Joel does not host The Price Is Right.

Podcast: Play in new window | Download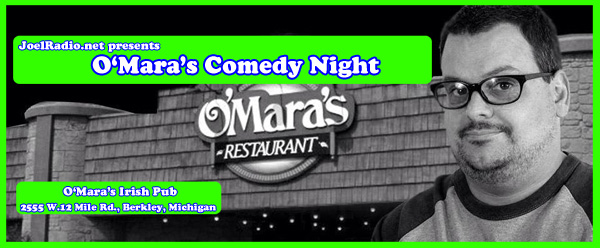 It's back to the studio, as Joel Radio welcomes the return of John Tenney to the podcast. Last week's live event is on the forefront of Joel's mind however, as he recaps the challenges of recording a live show, the new equipment he used and the pressure of writing an all-new comedy set. Joel and John listen back to Joel's set critiquing the material in an attempt to figure out why some stronger jokes died and some weaker ones succeeded, and why local references, topical jokes and arcane references should be avoided. The guys also review the amazing, incomprehensible performance of Nino Brown, who strolled on to the comedy stage with a full month's notice and managed to yell, curse and make other indescribable noises to the delight of Tenney, who is planning a potential CD release of Nino's material. Even a tardy Corey Hall can't deny how funny the set is on playback, despite the fact that he got up and left the room as it was happening live. The bad comedy doesn't stop there, however, as Seth Myers makes his late night debut, and even if it's better than Jimmy Fallon's debut, there's still a long way to go. Plus, a full Oscar recap including Travolta's hair and intro mishap, why 12 Years a Slave won all the awards, and the sheer awfulness that was Ellen Degeneres. Hey Ellen, a woman wearing a tuxedo should not tell another woman she looks like a dude. Read more Oscar and late night snarking on the official Joel Radio Twitter @joelradioshow.

Podcast: Play in new window | Download
The official Oscar review from the staff of JoelRadio.net