Posts tagged
Oklahoma City
Joel welcomes pro wrestler/comedian and would-be filmmaker Mikey Gordon to the show. Mikey and Joel met at The Gathering of the Juggalos, and have crossed paths at diverse places over the years including Detroit, California and Oklahoma City. Mikey details his attempt at making a feature film, how you can help support it, and the unique way way it will eventually be released. Mikey also tells tales of jobbing on WWE Raw, drive-thru wrestling, and Joel revisits the night a pro-wrestler him in the head with a chair. Ouch. Plus, Layla reviews stuff like Wandavision, Frayed on HBO Max, and Search Party (and Save Yourselves with the same exact guy!). Plus, Joel's Oscars spin says no-one could possibly enjoy Mank, an explainer on My Octopus Story, and he runs down exactly what he needs to see pre-Movie Mania.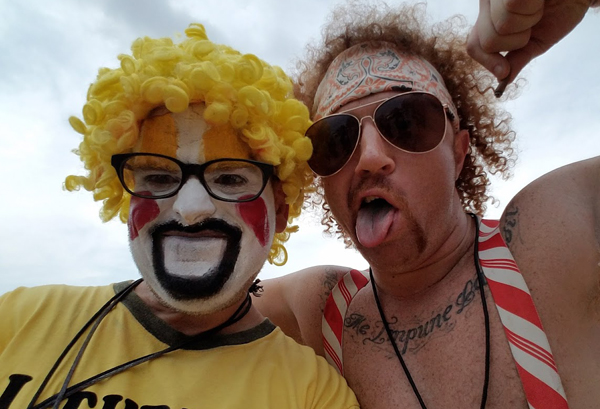 Upchuck and Dirty Ron trying to enjoy the hell that is Oklahoma City in 2017
On this episode, Joel recaps another Gathering of the Juggalos, including him finally getting some good press for a change. The big takeaway is probably the crime, or lack thereof, at the 2017 festival site in Oklahoma City. Joel details the eight people arrested and what they got pinched for, and compares it to recent arrests at concerts and festivals around the world. It's an eye-opening look at what is a feared and misunderstood event and why the good people of Oklahoma couldn't separate the truth from the hype. Joel will also tell you the worst state to drive in, how to make peace with a not-so-kind-in-the-past reporter, and why Colorado is the new Florida. Also, the movie called Detroit came out this past week and it's not very good. Hear where the filmmakers went wrong and find out why the Detroit riots of 1967 is a story that deserved better. Plus, how to get (or not get) all the podcasts you want – just cough up some dough and download three or four apps, Corey Hall reviews The Big Sick, HBO's Defiant Ones is worth a look, and the fans chime in on the best and worst movies of summer.
[display_podcast]
These may or may not be actual images from this year's Gathering