Joel Radio #274: The Clown Show
Joel welcomes pro wrestler/comedian and would-be filmmaker Mikey Gordon to the show. Mikey and Joel met at The Gathering of the Juggalos, and have crossed paths at diverse places over the years including Detroit, California and Oklahoma City. Mikey details his attempt at making a feature film, how you can help support it, and the unique way way it will eventually be released. Mikey also tells tales of jobbing on WWE Raw, drive-thru wrestling, and Joel revisits the night a pro-wrestler him in the head with a chair. Ouch. Plus, Layla reviews stuff like Wandavision, Frayed on HBO Max, and Search Party (and Save Yourselves with the same exact guy!). Plus, Joel's Oscars spin says no-one could possibly enjoy Mank, an explainer on My Octopus Story, and he runs down exactly what he needs to see pre-Movie Mania.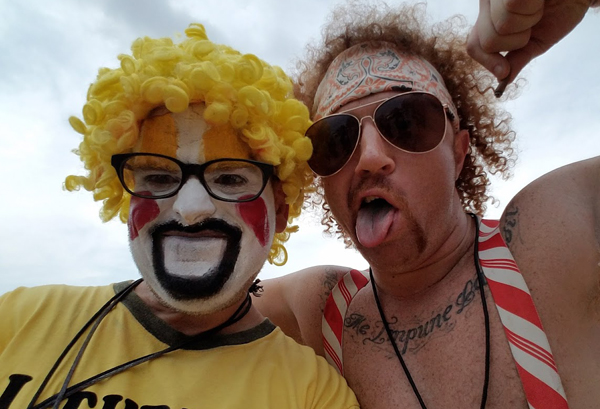 Upchuck and Dirty Ron trying to enjoy the hell that is Oklahoma City in 2017
No comments yet.
No trackbacks yet.
about 2 years ago - No comments
The annual massive Movie Mania show consisting of Joel's best movies of the year, the worst movies of the year, Oscar predictions and more is here! Joel is joined once again by Jason Fylan-Mares (or is it Jason FM?), and the guys have included a symbolic chair for the late, great Corey Hall to join…