Posts tagged
Samantha Rager
It's been a busy few weeks at Joel Radio, and it's all re-capped on this fine episode. Your host headed off to New York City to see his old college stomping grounds, get drunk with hipsters, visit museums and hang with some comedy buddies. His main objective though was to see Penn & Teller On Broadway which he did, and while sitting next to a childhood hero, no less. Hear all about the P&T show, the best things to do  in New York and why a front-row ticket isn't always a front-row ticket. Joel also attended the annual Funny or Die: Oddball Comedy Festival starring Amy Schumer, Aziz Ansari and others. Find out who were the surprising stars of the show and what unknown comics that Joel knows who might be blowing up in to very big stars in the future. Joel is joined for the show by Detroit's own comedy oddball, the delightful Samantha Rager. Sam had to break in to her house car to get to the show, but it was worth it as Sam talks about getting bumped at a comedy show by a big star, seeing year-old movies at the dollar show, and the most adorably clueless rundown of a fantasy football team ever. Also, a Gathering of the Juggalos comedy recap, and reviews of the movies Trainwreck, Ant-Man and the ridiculous The Gallows. Plus, RIP "Rowdy" Roddy Piper, as Joel tells a harrowing tale of hosting a show with one of the greatest pro-wrestling characters of all-time.
[display_podcast]
Joel is fatter than Penn and shorter than Teller!
Beautiful Lower Manhattan from the Circle Line cruise. Joel actually took this picture!
What's a modern girl gotta do to make it? That question probably won't be answered on this episode of Joel Radio, but returning guest comedian Samantha Rager tells of her wacky, hilarious ways of overcoming life's challenges. Hear how Sam placed a Craigslist ad for an imaginary loved one, and had her car washed away by a recent flood and the scumbag car dealer who ripped her off for a replacement. Also, hear her desire for a professional cuddler, the pitfalls of webcam modeling, and her (possible) interest in the profession of topless housekeeping. It's always a fun time when Sam's around, and get a hold of us if you wanna cuddle. Also, Corey finds some wacky old comedy shows on Hulu, John Tenney makes the papers for his TV debut this week, and Joel reviews St. Vincent, The Book of Life and Alexander and the Terrible, Horrible, No Good Very Bad Day. Plus, very few people have actually watched all of Abbott and Costello's thirty-six films, but Joel will soon be one of them.
[display_podcast]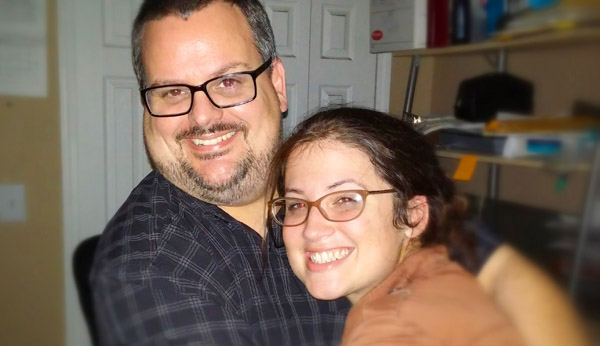 Samantha and her possible new cuddle pimp, Joel
Joel Radio is proud to present a real-life "bar" open mike show, recorded live and without edits at O'Mara's Irish Pub in Berkley, MI. Joel is the host and opens with several minutes of fresh material written specifically for the night. He riffs on the Sochi Olympics, The Lego Movie, the Oscars and perhaps most successfully, pitches his idea for a new reality show, one that might help him actually get laid. It's risky material, and some is so new it's practically read right off the page, but it works, mostly. Except for that Girls joke, which bombed, but is still funny if you watch the show. You'll also hear a similarly unrehearsed set from Corey Hall, who while every bit successful (or unsuccessful) as Joel on the night, clearly spent exactly no time actually writing his stuff down. Also, show favorite Mike Lundy returns to the stage and does what he does best – getting laughs, recent show guest Samantha Rager does some sit-down comedy, and Michael Babbish and Allen Smock team up to play Battleship with jokes, which ends up being exactly funny as it sounds. Plus, Dan Brittain arrives fresh from comedy school, Marty Smith proves that crazy old men can still write pretty good jokes, and lots more terrific comedy sets from Michael Geeter, Zach Stein, Ron Lutze, Amit Jain, Esther Navarez, and AJ Rice. Perhaps most importantly though, you'll hear the comedy debut of Nino Brown, a young man who has a krunked-out, English-language defying delivery that is either the worst or the funniest thing that you're ever likely to hear. Listen as Nino roasts the room, hampered somewhat by the fact that the targets of his jokes can't seem to understand what he's saying. After years of hearing wild stories from Joel and Corey about open mike comedy shows of the past, here's a chance to experience one for yourself from the comfort of your own home or car, no cover charge required.
[display_podcast]
Joel's comedy set and running order for the show. A clash of handwritten chaos and word-processed brilliance