Posts tagged
John E.L. Tenney
Two titans of comedy dies this past week. Comedian/activist Dick Gregory dies Saturday and nightclub, movie and telethon star Jerry Lewis died less than twenty-four hours later. Joel and Corey Hall remember the legends including Jerry's last dicky interview, his awful failed talk show, and his bizarre thoughts on the world in 2017. Joel met Dick Gregory twice and found things didn't get better with age, as he remembers the brilliant gentle, hilarious comic and the bitter angry, pushed-into-it-by-his-family Dick from six months ago. Also, old friend Sal Demilio calls in to remember Jerry and Dick and give betting tips on the upcoming NFL season and the Mayweather/McGregor fight. Plus, Joel and Corey take in the eclipse, as show fave John Tenney calls in with his thoughts and explains how the paranormal community cashed in on the hysteria. If that wasn't enough, Disney leaves Netflix, Seeso says goodbye, Viceland looks at stand-up comedy, and why Chik-fil-a not being open on Sunday was the worst idea ever.
[display_podcast]
This image perfectly summaries the week that was
Even though it stated more than halfway through the show, all anyone is going to be talking about from this episode is the epic fight between Joel and Corey Hall. You could say it started innocently enough, with guest John E.L. Tenney asking about the show's name change from a few years back. It quickly disintegrates into an argument about pizza toppings, who's funnier and who needs psychological counseling. This is a loud, expletive filled argument that is absolutely not safe for work so keep that in mind. It also may be really uncomfortable to listen to, but John found it endlessly entertaining so there's that. Before all that happened the guys broke down TV's latest "events", a Peter Pan live musical and a guy getting eaten by a snake, they both sucked, but for different reasons. There's also analysis of the Dan Klein comedy special, an inside, meta comedy/parody that's either brilliant or awful or both. Hear that compared to Dan's actual stand-up comedy and figure out which is worse. Plus, nerd rage over the Star Wars teaser, Interstellar is too long (but still shorter than this show), John on the future of Ghost Stalkers, and opening Xmas presents from the fans – delight or disappointment?
[display_podcast]
A long-range photo of the Joel Radio studios while recording this week's episode. The bomb was dropped by John Tenney
What's a modern girl gotta do to make it? That question probably won't be answered on this episode of Joel Radio, but returning guest comedian Samantha Rager tells of her wacky, hilarious ways of overcoming life's challenges. Hear how Sam placed a Craigslist ad for an imaginary loved one, and had her car washed away by a recent flood and the scumbag car dealer who ripped her off for a replacement. Also, hear her desire for a professional cuddler, the pitfalls of webcam modeling, and her (possible) interest in the profession of topless housekeeping. It's always a fun time when Sam's around, and get a hold of us if you wanna cuddle. Also, Corey finds some wacky old comedy shows on Hulu, John Tenney makes the papers for his TV debut this week, and Joel reviews St. Vincent, The Book of Life and Alexander and the Terrible, Horrible, No Good Very Bad Day. Plus, very few people have actually watched all of Abbott and Costello's thirty-six films, but Joel will soon be one of them.
[display_podcast]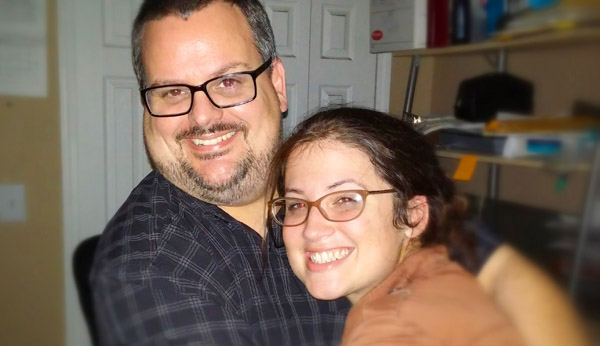 Samantha and her possible new cuddle pimp, Joel