Posts tagged
Judd Apatow
Joel welcomes "young" comedian, radio DJ and good guy Ed Hunter to the podcast. Ed and Joel have known each other for a while, but Ed's role in a major American historical event – the funeral of President John F. Kennedy is fascinating. Ed shares his story of being a precocious child and writing to the Army bugler that flubbed the playing of "Taps" at Arlington National Cemetery. That letter would become a memento of that sad occasion that would find Ed his fifteen minutes of fame some fifty years later. It's an amazing, uplifting story that is in stark contrast to the divisiveness in Washington today. Speaking of Washington, Judd Apatow has some wise and funny observations about Trump, the internet and the election that Joel found enlightening. Also, feedback to the last few podcasts, Joel says Jackie is a good watch for JFK history fans, and the terrifying Oscar-worthy PBS documentary Command and Control can be seen right now. Plus, La La Land and Lion are really good, the Carrie Fisher/Debbie Reynolds documentary is weird, and the new OJ documentary is OK, but last years OJ stuff was so, so much better.
[display_podcast]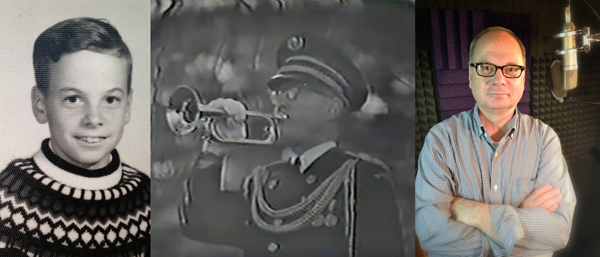 The young Ed Hunter, Army bugler Keith Clark, and Ed today (in much nicer studio than Joel's)
The summer movie season brings some highly anticipated releases. For Joel, one was This Is The End with Seth Rogen and the Judd Apatow comedy all stars, and for Corey the Superman reboot, Man of Steel was on his shortlist. Well, both guys are disappointed as neither film lived up to their respective hypes, and that's the focus of this week's Joel Radio. Joel Thinks This Is The End and has a soft middle (just like him!), while Corey finds the super-human fistfights exhausting – and they're both too long. A better watch is Showtime's Richard Pryor: Omit The Logic, an eye opening look the the comedy legend, and Corey recommends Twenty Feet From Stardom, a doc about professional back-up singers who almost made it. Plus, Joel has two big announcements, the first involves his favorite band reuniting, and the second is even less dramatic, at least according to Corey, who reads Joel's secret message and decides it's not even worthy of mention, despite Joel's protests. What the heck was it? Stay tuned! Joel Radio ends on cliffhanger!
[display_podcast]
It's a always a fun show when John Tenney stops by. With his recent Bigfoot hunting and conspiracy-exploiting lectures behind him, John joins the guys to announce a new project. It's a retro cartoon show and the first episode is embedded below. Find out John's hopes and dreams for the new project and reminisce with Corey about his previous brush with underground fame (it's actually pretty funny). Joel's not left behind in the fame sweepstakes though as his small, uncredited, but crucial spot in the Judd Apatow-produced The Five Year Engagement hits screens. Joel has the full story of his involvement with the film, his "extra" pool discovery by the director and tells why he hadn't promoted it earlier on the show. Also, the value of entertainment is evaluated as Joel thinks Blue Man Group is over-priced, Corey hasn't jumped at the under-priced Beach Boys reunion, and Joel spends big bucks for Springsteen in Chicago. Plus, Corey says The Dictator should be overthrown, Dark Shadows is worth a look, and Joel's night with George Clinton and the P-Funk All Stars.
[display_podcast]

John Tenney's latest venture. Look for many more episodes soon (or maybe not!)
And finally….
Corey as Chris Merman! We couldn't resist!