Posts tagged
Roseanne Barr
Joel is blown away by the response of the last episode and has some updates on the whole Roseanne Barr fiasco. Hear about his resistance to go national with the story and how his radio home in Detroit has picked up on the story. He's joined by Corey Hall and Bill Hildebrandt, the latter back from a comedian's picnic that the other guys didn't attend. Why do the "young" comics not hang out with the "old" ones? Why are there open mikes on weekend nights and why do veteran comics not like that? Those important questions get answered on this show. Also, one of the two Amazing Johnathan documentaries gets screened – maybe this wasn't the "good" one? Plus, Corey's sushi date, Swamp Thing gets cancelled, Joel tells you the best thing he's watched all year, Dead To Me is for girls, reviews of Rocketman and Dark Phoenix, too.
Too many clubs. Even on the weekend. Don't be that guy.
Joel was plugging his big gig last week, but a funny thing happened on the way to the Fox Theater – he was fired on the day of the show by headliner Roseanne Barr. The reason given? This podcast! Joel and Corey Hall recount what they said about Roseanne on previous shows, which was as fair as anything in mainstream media, and wonder if the ridiculous image of Trump on an older show is what got him fired. It's a ridiculous story about show business, media and the culture war of 2019 and yeah, it's personal now. Joining in the Roseanne hate is comedian Dave Landau who was removed not once, but twice from NBC's Last Comic Standing because Roseanne has a thin skin. Dave calls in to tell his tale and gives updates on his rising career. Plus, Corey works with The Amazing Johnathan, All in The Family goes live, the last Game of Thrones puts Jon Snow in rehab, Barry is still great, and is Booksmart is just a woke version of Blockers or is Joel out of touch?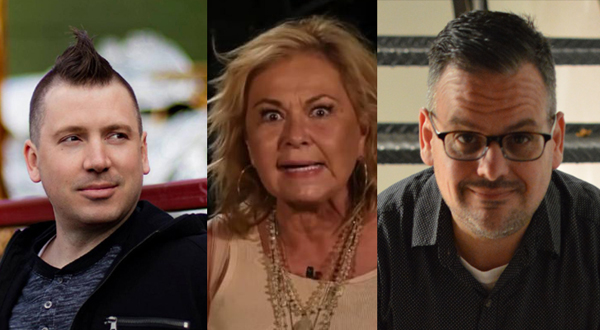 Dave Landau, Roseanne Barr and Joel. One of them looks completely insane
Joel and Corey Hall have some big shows coming up as Corey appears with The Amazing Johnathan, and Joel opens for Roseanne Barr. Hear about Joel's preparations and the wacky open mikes he's doing to get ready for this big show. He also considers the controversy around Roseanne, takes advice from other comics and thinks it's ultimately a good opportunity. Is he right? Listen to find out. Also, the usually funny Nick DiPaolo is controversial for something really dumb but the guys aren't surprised. Plus, Chewbacca actor Peter Mahew dies, The Act on Hulu brings back the 90's hottest actresses as frumpy moms, Long Shot is better than you'd think, more Avengers fallout, and The Dark Side of the Ring is the true crime take on wrestling that you've been waiting for.
Chewie gets his paws on Leia. RIP Peter Mayhew