Joel Radio #221: KFC Diplomacy
The world seems crazier than ever, as Trump meets a Korean dictator, IHOp changes its name, Anthony Bourdain dies, and the NBA is the most important thing in the world – to some people. Stuff got weird this week. Really weird. Also, Corey Hall meets a big celebrity in Detroit, but it wasn't a great encounter – find out who he met and why he wasn't a nice man on this show. Plus, Star Wars nerds are mean, Roseanne goes nuts, as does Lisa Lampanelli, HBO's Barry was fantastic, and movie reviews of Deadpool 2, A Quiet Place and Herdeitary. The big takeaway from this show – Guy Fieri is an asshat who will outlive us all.
[display_podcast]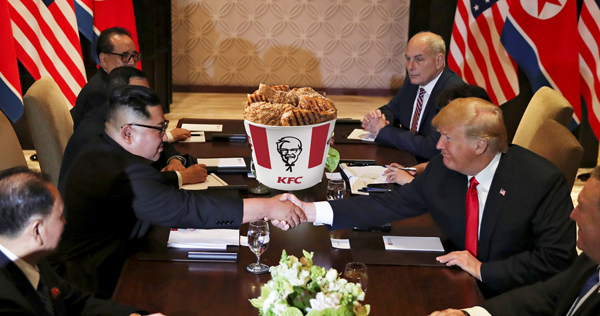 The Joel Radio cameras were a witness to history
No comments yet.
about 3 years ago - No comments
Joel attends opening night of the new Star Wars movie and reviews it along with comedians Kevin Kramis and Josh Bowab. Turn out the guys liked it overall, even if they weren't all that hyped to see it. The review is *spoiler free* for the first 18 minutes or so – you've been warned! Joel…