Joel Radio #208: The Star Wars: The Last Jedi Review
Joel re-assembles the Jedi Council of reviewers to talk about the new Star Wars film on opening night. Listen as Joel, Corey Hall, Josh Bowab, and Ellen Stachowicz break down the newest installment talking what worked and what didn't, the direction the films in the future, some odd casting decisions and the influx of cuddly new animals. Is this as good as The Force Awakens? The Original Trilogy? Is this the Han Solo of Star Wars Films, the Jar Jar Binks or something in-between? The first part is spoiler-free so don't worry if you haven't seen it yet. You'll hear the warnings when it happens, so listen to the first on the way to the movie and the second part on the way home. Or throw in an earbud and listen during the show – you won't have to hear Benecio del Toro! May the Force Be With You for listening to this one!
[display_podcast]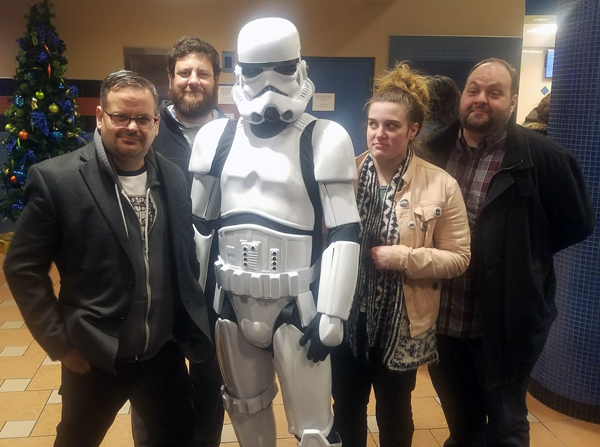 Joel, Josh, Ellen and Corey pose with a Stormtrooper – maybe it's Finn!
No comments yet.
No trackbacks yet.
about 3 years ago - No comments
Joel attends opening night of the new Star Wars movie and reviews it along with comedians Kevin Kramis and Josh Bowab. Turn out the guys liked it overall, even if they weren't all that hyped to see it. The review is *spoiler free* for the first 18 minutes or so – you've been warned! Joel…