joel
This user hasn't shared any biographical information
Posts by joel
Joel and Corey Hall review Avengers: Endgame on its opening weekend. Don't worry, there's no spoilers – right away anyway – so feel free to start listening and finish after you've seen the film. Joel has always been skeptical of Marvel's film output, while Corey is a comics fanboy and yet, they mostly agree about this one. Don't worry, there's more arguments in future episodes! Read Corey Hall's written review here, too.
Comedian Jeff Horste joins Joel and Corey Hall on this show to discuss his move to L.A., working with Kevin Hart, going viral on the internet, and if he's attending Nipsey Hussle's funeral. The guys look back at Jeff's comedy career start at Club Bart and the unique way Joel (the host) encouraged comics to get off the stage – no lights necessary. Also, Joel does New York City, seeing Adam Driver on Broadway, watching pro wrestling at Madison Square Garden, and seeing a unique and wonderful magic show. Find if Star Wars co-stars Driver and Keri Russell got naked on stage and find out which one inadvertently spit on Joel! Plus, who sat where on the Match Game, Corey likes Shazam, The Inventor documentary is weird (as is the lady!) and Joel produces a new podcast.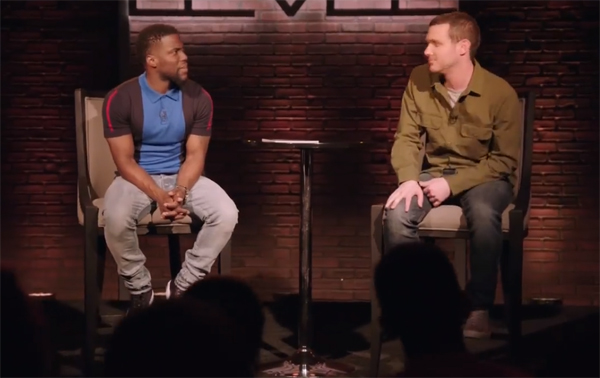 Kevin Hart talking to Jeff Horste. It was a short interview!
Joel explains why there was no podcasts for the last month. Turns out the surgery he forgot to disclose was way harder for him to recover from than he thought. Hear Joel's tale of woe, the complications he's suffered, how the anesthesia nurse was comedy club stage jumper, and all the embarrassing details on this show. Joel is joined by comedians Corey Hall and Bill Hildebrandt this week and hot topic of non-comedians being booked at comedy clubs is discussed. Is it smart business or an insult to our "art"? Should an unknown, but really funny comedian get bookings over a humorless celeb like Dustin Diamond or Ron Jeremy? The guys discuss the unfunny celebrities they've worked with and why it's not always the worst decision to use them. Plus, Corey likes Dumbo more than Us, Captain Marvel isn't that marvelous, Joel thinks Ricky Gervias is great again on After Life, and America's new past-time – watching Finding Neverland and arguing with those who have never see it.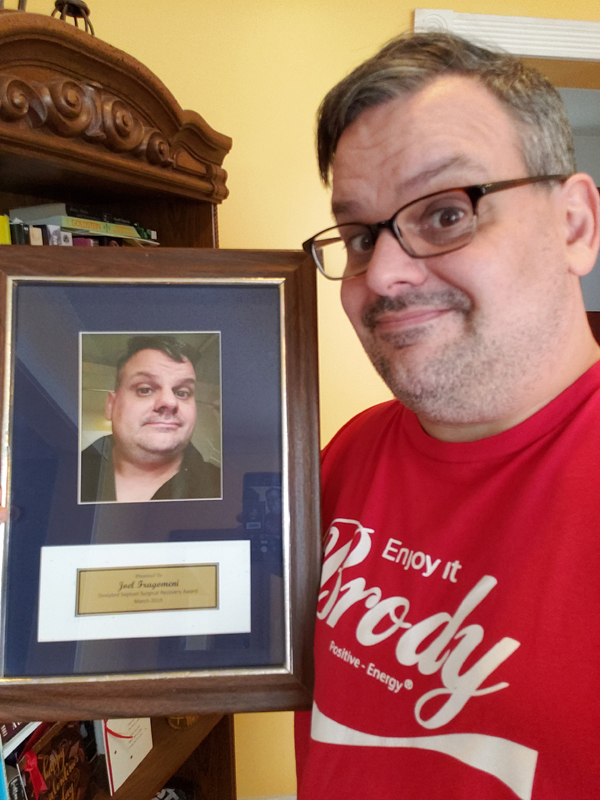 Joel proudly accepts his gag award for surviving surgery and thanks the Joel Radio listeners
Another year, another million or so movies watched by Joel and Corey Hall to make this podcast. You'll hear each guy's list of the best movies of 2018, find out what the worst of the year were, too, plus get their thoughts on what will and what should win at The Oscars. Find out which one super hero movie made the list, why the Rotten Tomatoes scores don't always work, and why Melissa McCarthy is on the best and worst movies list. Also find out about the film destined to be a cult classic, why Bohemian Rhapsody isn't very good, and why not to take your girlfriend rock climbing. The producers of this podcast would like to apologize in advance for a lack fighting on this episode. They promise to try harder on Movie Mania 2020.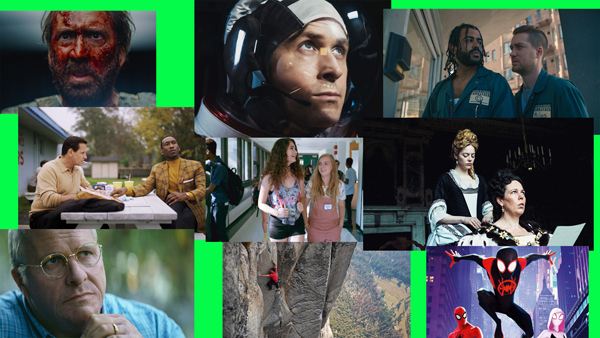 The movies of 2018!
It's said that Super Bowl Sunday is a snapshot of America. If that's the case, America is a weird, vapid, uninteresting place. Joel and Corey Hall review the game, the commercials and the halftime show – all three elements were equally dull! Then guys also get a call from comedian Sal Demilio to discuss the betting implications of a low-scoring game and how his dream job is, still, to open for Frank Sinatra. Also, Eddie Murphy made so much homophobic comedy in his career Joel can't keep it straight. Hear the awful examples of what he was up to and why, it seems, no one is outraged today. Plus, True Detective is good and Corey doesn't care, why comedians hate FuckJerry, the Starbucks CEO runs for president, and Liam Neeson has a particular set of possibly racist skills.
The actual first track of Eddie Murphy's debut comedy (not to be confused with the similar name of the first track of his second album)
It's a with great pride that Joel Radio can introduce you to Seiko, a native Japanese man who now lives in America and who is one of Joel's former comedy students. Seiko is funny and charming and he has found success reviewing Japanese restaurants in the U.S. and sharing them on Facebook. This caught the attention of Corey Hall who asked Seiko to bring back some snacks from a recent visit to Japan. Those snacks, which the guys try, include green chocolate Kit Kats, pickled seaweed, and shrimp flavored cookies. They're as good as they sound, folks! Corey retorts with wacky American snacks, some of which were new to Seiko! Will he enjoy a Toffifay? Listen to find out. The guys also chat about Seiko's comedy career, how he'd fare in a black comedy club and much more. Also, which Fyre Festival documentary should you watch to see "influencers" get scammed and made to suffer? Joel and Corey have seen both and they'll get you up to speed. Plus, what's so special about Japanese toilets?, Mary Poppins Returns is the same crap, Roma feels like film school (in a bad way), and a Ruth Bader Ginsburg double feature is what has become Joel's life in Oscar season.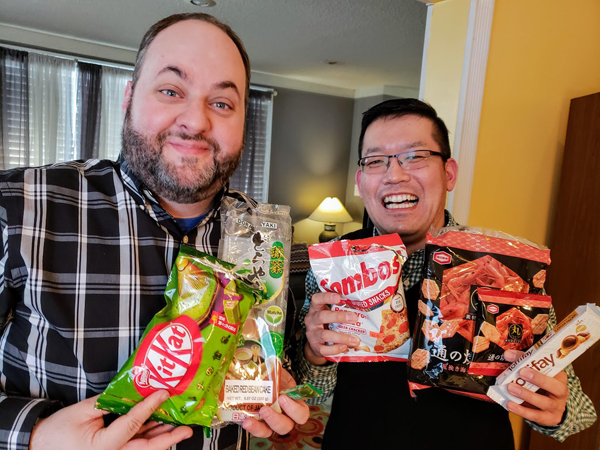 The smiles hide the fact that these snacks mostly sucked
The first podcast of 2019 starts like the others – Corey Hall is late! Special guest comedian Bill Hildebrandt and Joel speculate as to why, creating the "Corey Hall is Late Bingo" game. Corey shows up after a few minutes, though. His reason? Listen to find out. And it's a fun show, too, as the guys talk comedy on New Year's Eve, why it's not always a great show, how Tiffany Haddish and Louis CK had infamous NYE shows this year. There are wild, diverse opinions on the topic and Joel reads some online reaction, too, from friends an celebrities alike. Also, celebrities are dying already in 2019 including, legendary pro wrestling interviewer "Mean" Gene Okerlund, and comedy legend Bob Einstein. Plus, another take on the "Gallagher story", Bird Box made the world go crazy even though it sucks, Joel says there are awesome documentaries on Hulu, and who thought Vice might be the best movie of 2018.
Poor excuses not pictured!
The crowd goes wild as Corey Hall dances during his introduction on this podcast. Ok, it didn't happen that way, but if Joel and Corey were daytime talk show hosts, it would have. The guys discuss Ellen leaving, the ridiculous and (also dancing) GMA Day and how Wendy Williams keeps America's housewives up-to-date on hip-hop culture. Also, the guys eat "The Worlds Best Chocolate Chip Cookies" – it says that on the box! It sounded too good to be true, and it was. Listen to find out why. Plus, another comedian is pulled off the stage by snowflakes, Corey talks Bumping Mics; which he's done himself, Neflix unveils a horrid Xmas movie, Dumplin' is for girls, Joel rental picks to click, and The Favourite is the best new movie to see for two reasons says Corey.
[display_podcast]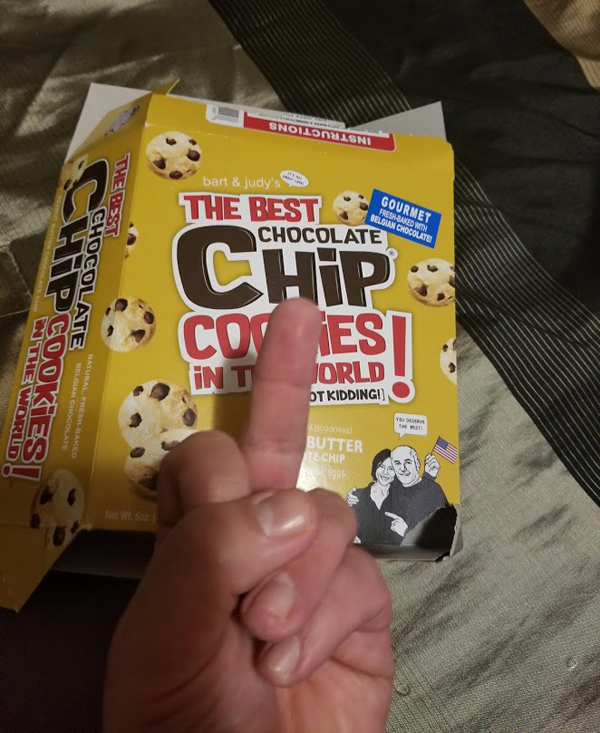 This image says it all. Even Robert Frost would dislike these cookies
The holiday movie season (and Oscar season) is in full-swing as Joel and Ted Moss review some of the award hopefuls including the very good Green Book, and the awful Netflix/Coen Brothers cash-burn The Ballad of Buster Scruggs. What's worth a look this holiday?  Lots of reviews to hear as Melissa McCarthy gets serious, those Asians are Rich and Crazy, and a remarkable documentary, Three Identical Strangers. There's also a big argument over a depressing movie with a great performance as well. Plus, Joel performs in front of the "Unalughing Fat Guy" again, Ted goes west on Amtrak and visits Amazon even though he doesn't subscribe, why everyone should watch YouTube videos, and Joel receives the worst Christmas card ever – from Ted.
[display_podcast]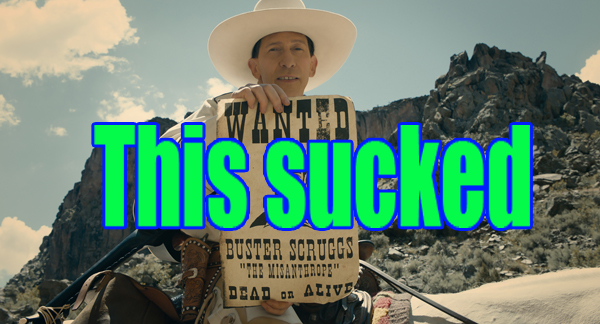 Turn this movie off after the first story. Trust us!
Comedian Ted Moss returns to tell of his recent audition for America's Got Talent. While Joel explains that reality TV show auditions aren't all they are cracked up to be, Ted says that his went well. Hear all the details of how it's not like what you see on TV and how many jugglers were practicing in the waiting room. Joel and Ted also talk lots of comedy including Joel's recent experience at open mike. Find out why one guy wouldn't laugh when everyone else did, and why a comedian shouldn't get upset about it. The guys also clash over the notion that new comedians have a "blueprint" of who they'd like to be in the business. Joel says almost everyone does, while Ted (unbelievably) thinks that's idiotic. Also, Joel, Ted and some friends tried an escape room. did they escape? Find out who was helpful and who wasn't and hear Ted's criticisms of the particular escape room they attempted. Plus, Joel thinks he found the funniest show ever on Amazon Prime, Ted watches new specials from Joe Rogan and Adam Sandler, and Joel's full guide to why comedy contests are the worst.
[display_podcast]
A single frame from HITOSHI MATSUMOTO Presents Documental on Amazon. So funny!